Wooden Toys and Child Development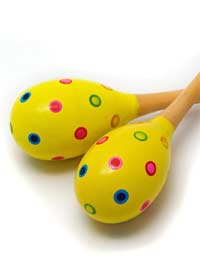 As your child begins to grow, you want to stimulate them and help them develop both physically and mentally. There are a great range of wooden toys that are designed to help with hand to eye co-ordination, fine motor skills, and physical development and are mentally challenging, such as offering problem solving games. Wooden games are also a brilliant excuse to get your child away from the television screen or off of the V-Tech computer console and get them learning and discovering how to play in a more traditionally stimulating way. There's no better way to encourage your child to learn how to play fairly and share using toys that have been the staple of a child's playtime for hundreds, if not thousands of years.
Some of the great wooden toys for younger children include shape sorters, activity centres and baby activity walkers while older children can enjoy small but exciting grand pianos and jigsaw puzzles.
Young Children's Development
Wooden toys are durable and long lasting. They can stand the abuse a young child will put on them, and this makes them a fantastic investment in your child's development and can even be reused and passed on to other children as your family expands.
Stimulation with toys such as the wooden shape sorters which help with fine motor skills and hand to eye co-ordination is great. They are good fun and can be rolled along for added enjoyment. However, it is often the shapes and colours that are the main attraction; helping children over the age of three to start recognising different colours and shapes. Brio trains are an excellent way to continue this trend as they get older.
There are also fun activity centres. These are usually triangular in shape and include turning blocks with a letter, a picture which relates to the letter and the corresponding word. These are suitable for children aged two years and older and help children to learn the alphabet, recognise pictures and learn how to spell the words; one of the greatest interactive wooden toys to help your child develop.
For babies, the activity walkers are a plus. Not only do they help a baby when they are learning to walk, but they also hold great wooden blocks that are colourful and available in a range of shapes. So, while these walkers are designed for physical development, they help mental development as well. These are perfect for babies aged one year and older.
Older Children
Stimulation is key to developmental learning in children and you can help stimulate this development way before a child starts going to school. Often children can learn the alphabet, understand colours and recognise shapes from a young age, with the right amount of stimulation.
Wooden blocks are colourful and come in various sizes and shapes, perfect for sitting and building houses, castles and other great builds. They are ideal for children over the age of three, to help them with hand to eye co-ordination and mental development.
As your child ages they won't be interested in building castles or playing with activity centres, but there are a lot of fantastic wooden toys that they can still enjoy such as jigsaw puzzles, which are a problem solving game that will keep them mentally stimulated. Additionally, there are garage sets, dolls houses, carpenters workbenches and musical stations. All these wooden toys are aimed at education and development.
The children's sized grand pianos are one of the best wooden toys available for children. The pianos are made of wood and come with their own bench; perfect to keep your child stimulated and learn music along the way. These pianos offer hours of fun and entertainment for children of all ages.
About the Author
This guest article was written by Michelle Kuhl of The Wooden Toy Shop, supplier of the UK's best and most traditional wooden toys.
You might also like...