Stages of Child's Play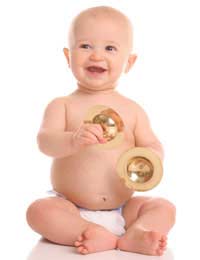 If you remember your own childhood chances are that you did not play the same games or favour the same toys the whole way through. Instead, you probably enjoyed different activities and objects depending upon your age. The same is true for most children. At different stages of growth and development children prefer different types of play, and this is completely normal. As a parent, you must ensure that your child always feels comfortable engaging in his/her preferred form of play, and that you respect his/her choices.
Infant Play
Infants usually enjoy playing alone and using their bodies to explore their surroundings. Infants are still learning about the world around them, so they are only just recognising their own senses and all that they can explore with them. Infants are also still learning how to control their own bodies and how they can interact with other people, so many of the types of play they favour allow them to explore this control. Infants tend to like to play with rattles, chunky board books, soft toys and mobiles that they can see hanging above their crib or cot.
Toddler Play
Toddlers have begun to master their own body movements and many have begun to crawl, walk and/or run. Toddlers have also begun to recognise relationships between people and objects, and how to interact with both. The idea of object permanence has become known to toddlers, so they understand that even if they can not see an object it still exists. Many toddlers enjoy playing with blocks, balls, arts and craft materials as well as physical games such as hide and seek.
Pre-School Play
Younger children who have not yet entered school tend to enjoy interacting with other children and engage in cooperative and dramatic play. As they interact with others, children who are not yet school aged use more language in their play and can verbalise relationships between people and objects. Younger children of this age will usually enjoy playing with props that they can situate in their own made-up games, arts and crafts supplies and using outdoor materials (rocks, leaves, etc.) in their play.
School Play
Children who are old enough to attend school often like to play with other children and be included in large group activities. These older children understand and can follow the rules of group games, and they usually have mastered their gross and fine motor skills enough to partake in a wide variety of activities. Many school aged children also develop an interest in just one type of activity or object and thus discover that they have a hobby. Engaging in sports leagues, creative classes and playground games are all activities that many school aged children enjoy.
The types of play that children prefer usually relate to their age and the stage of development that they have attained. The above categories are simply guidelines and many children will never take an interest in particular activities regardless of their age or stage of development. If you are concerned about your child's abilities or preferences, speak with your GP or local child care expert, or explore the activities with your child. Hopefully you'll both end up having fun.
You might also like...