Suitable Activities for Children (3-7yrs)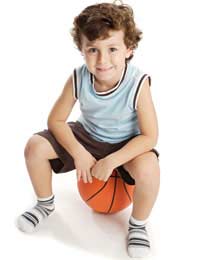 Young children often enjoy a variety of activities in a given day and indeed many expect that they will be able to participate in many different activities even in the short space of just one morning or afternoon. For parents and caregivers this can often lead to frustration as it means coming up with multiple activities each day, but brainstorming needn't be a chore. Remember that young children need to work on a variety of skills including those related to physical development, emotional and social development and cognitive development. By creating a mix of sports activities, arts and crafts and hobbies into each child's schedule most of these needs should be met in short order.
Sports Activities
Children between the ages of three and seven years span a wide variety of physical, emotional, social and cognitive stages. Some children may barely be able to kick a ball let alone understand the rules of football while others can do all of these things plus have the motivation to compete against others of similar ages. Whether or not your child is ready for organised sports teams, most children enjoy a variety of physical activities and learning the fundamentals of both team and individual sports. Sports activities that work particularly well for children aged between three and seven years include:
Learning to swim and racing each other up and down the pool.
Racing the clock or against others in a running race of a short distance.
Practicing dribbling and kicking football goals.
Learning to volley on a tennis court.
Bouncing a basketball and "shooting hoops".
Arts and Crafts
Younger children may be more independent and mobile than infants and toddlers, but often their fine motor skills still need some work. Fine motor skills are those that are conducted with the small muscles of the hands and feet, and at young ages children rarely have nimble fingers. Not only do arts and crafts activities allow children to practice their fine motor skills but most of these projects will engage a child's creativity and imagination as well. Children between the ages of three and seven years tend to enjoy:
Cutting magazine pictures and words to make a collage.
Folding and tearing paper to create homemade cards and banners.
Drawing pictures of people and animals.
Painting with water colours.
Stringing beads and buttons to make jewellery.
Hobbies
Often during childhood individuals become interested in a particular subject and develop a lasting hobby that encompasses this favourite topic. These hobbies can encourage all types of development if they expand to include research and socialising with like minded people, so parents who encourage specific hobbies will again be supporting their children's development. Many children enjoy hobbies related to:
Sports or sports club, including collecting memorabilia.
Music, such as song writing, singing or playing a musical instrument.
Books, such as reading, writing short stories or composing poems.
Films, such as viewing films or film-making.
Design, such as clothing, jewellery or even "building" designs.
Children between the ages of three and seven years usually enjoy a wide variety of activities including sports, arts and crafts and unique hobbies. Parents who encourage these activities not only support their children's interests but physical, social, emotional and cognitive development as well.
You might also like...
sophiahb - Your Question:
Thank you for this article, or whatever you want to call it (ha), with me reading this, it enabled me to gain rather a lot of information within this topic, I was able to use what i've read to complete my own activities, which was rather useufl and dare I say fun!! I am so glad I came across this website, thank you again. Sophia Bush :) x
---
Our Response:
I'm glad it was of use to you.
KidsDevelopment
- 25-Nov-15 @ 11:39 AM
Thank you for this article, or whatever you want to call it (ha), with me reading this, it enabled me to gain rather a lot of information within this topic, i was able to use what i've read to complete my own activities, which was rather useufl and dare i say fun!! I am so glad i came across this website, thank you again. Sophia Bush :) x
sophiahb
- 24-Nov-15 @ 5:45 PM