Play Therapy for Children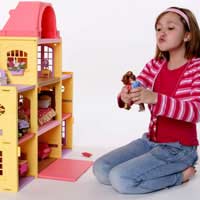 Children who are working through emotional issues or dealing with the aftermath of traumatic events are often encouraged to engage in play therapy as a means of expressing themselves. Children who have been diagnosed with Attention Deficit Hyperactivity Disorder (ADHD) may also be directed towards play therapy in order to learn more about appropriate behaviours and gain a sense of themselves. Though it is incredibly useful, play therapy often remains unknown to many parents, leaving them with questions. Please continue reading for answers to some frequently asked questions about play therapy for children.
What is Play Therapy?
Play therapy is the therapeutic use of play to help clients/children express and address their emotional issues. Play therapy also seeks to help clients/children achieve optimal psychosocial growth and development.
How Did Play Therapy Develop?
Play therapy was originally developed by child psychologists in the 1960s, such as Anna Freud, Margaret Lownfeld and Melania Klein. From its original conception, play therapy developed in different psychotherapeutic traditions, but play therapy remains firmly based on the idea that a child's free play can communicate a great deal regarding the child's unconscious.
How Does Play Therapy Work?
Play therapy will be conducted differently by different therapists, but it is rooted in the idea that how a child plays reveals much about the child's experiences, thoughts and emotions. In this context, play takes the place of the language and vocabulary that transmits these concepts in most adults' therapy.
What Happens During Play Therapy?
During play therapy a trained play therapist will invite a child to play with the toys in his/her office (or possibly a favourite toy that the child has in his/her possession) and will engage in this play. Throughout the visit the play therapist will chat with the child, usually asking questions or continuing discussions throughout, but only those that are related to the play at hand.
What Type of Play Occurs During Play Therapy?
The different types of games and toys available during play therapy will differ according to each therapist, but play therapists usually stock their rooms with a selection of board games, puppets, dolls/action figures, and art materials.
Are Parents Involved in Play Therapy?
Parents are not usually involved in play therapy sessions, though they will almost always engage in discussions with a therapist prior to their child's first session. Parents will be expected to explain why they have sought play therapy for their child, the issues or events that are affecting their child and their concerns for their child or the family as a whole.
How Are Play Therapists Accessed?
Play therapists can be both private specialists and working under contract for particular agencies. The British Association of Play Therapists (www.bapt.info) keeps records of registered play therapists by area, or consulting with a GP who can then make specialist referrals is also an option.
Play therapy is exactly what it sounds like – therapy carried out through the medium of play. Play therapy is particularly useful for children who are working through complex emotional issues, but do not have the language skills or vocabulary to communicate their thoughts and feelings. Though parents frequently engage in play with their children, play therapy should only be carried out by trained and registered professionals.
You might also like...
I need to grow talent and creativity of the games that children used to know.
zahra
- 24-Apr-17 @ 10:35 AM