Brain Development in Young Children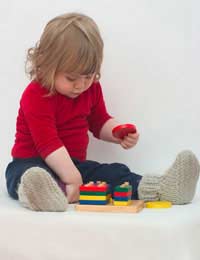 Did you know that although most of the brain's cells are formed before birth the majority of connections between these cells are not made until infancy and the toddler years? Or that the brain of a child aged three is twice as active as an adult's brain? If not, don't feel bad - you are not alone. Hundreds of myths about brain development in young children still circulate, but the truth is that the brains of babies and young children are incredibly susceptible to their environments. As a parent, this means that there is much that you can do to encourage brain development in young children.
Brain Development
When little was known about the human brain it was often assumed that babies were born with a fully developed brain and that was the end of the story. After a little more investigation scientists began to hypothesise that in fact the brain was not fully developed at birth but that it was pre-determined to grow only as the child's genetics instructed. More modern science has confirmed that though a baby is born with most of his/her brain cells developed, it is through experience that the connections between these cells are formed. These experiences are based on the baby's senses – touch, sight, taste, smell and hearing – and as the baby grows into a young child who begins to explore his/her world, the understanding that (s)he gains through these senses shapes brain development.
Types of Brain Development
Brain development occurs unevenly, with different parts of the brain (related to different skills) developing at different times. Most of this development takes place during childhood, meaning that the early years are the prime time for children to learn and grow under the encouragement of their family and friends. The different types of brain development in children include:
Visual and auditory development – the development of the sight and hearing senses. To encourage these senses, parents must make sure that their children are exposed to a variety of colours, shapes and sounds.
Language development – the development of language and speaking skills. Parents should talk, sing and read to their children often, and respond to their children's language attempts in order to foster this development.
Physical and motor development – the development of control over the muscles to encourage large motor skills (mainly using the legs and arms) and fine motor skills (mainly using the hands/fingers and feet/toes). The development of coordination will also occur in this area. Parents should encourage these skills by allowing their children to be active and participate in a variety of physical games and activities.
Emotional and social development – the development of emotions and social skills. Parents should provide a warm, loving environment for their children so that they can develop emotions like love, trust and empathy, as well as provide their children with opportunities to be social so that they can develop skills such as sharing.
Parents, as the primary care givers for young children, can contribute to brain development by leading by example. Speaking, reading and singing to young children will keep them engaged, while enjoying an active lifestyle and many different types of games will allow children to physically flourish. Providing opportunities for safe exploration, while at the same time providing a loving, warm home life, will encourage brain development in young children and hopefully set them on the road to a lifetime of happiness.
You might also like...
Hi I have a son. He is 2 and half years old and he is diagnosed with autism. He doesn't respond to his name and appears to not be aware of his surroundings. Do you have any kind of therapy to help him?
Macy
- 13-May-23 @ 10:03 PM