Extra Tutoring: How Do I Pay?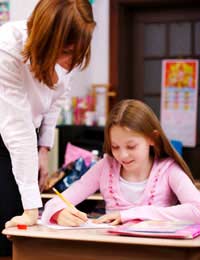 Private tutoring was once considered the preserve of the rich. The idea of having one-on-one tutoring outside school was thought to be prohibitively costly for most.
Sadly, for most people tutoring remains too expensive – but many more are beginning to think of it as an important element in their child's education and development. So how much does tutoring cost, and how can you pay for it?
Does my child need a tutor?
Many parents want to find a tutor for their child – and there is a vast range of reasons why you might start looking. The first and most important thing to understand is that it's not only 'special cases' who could benefit from extra tutoring. Children at every stage of development, and in every conceivable circumstance, could potentially be helped along with some extra help outside of school.
The sad truth of the matter is that teachers simply don't have the resources to give each child the one-on-one attention they deserve. Many parents therefore choose to hire tutors in order to ensure that their child gets the personal support they need.
How much does tutoring cost?
This is one of those questions to which you could reasonably respond, "How long is a piece of string?" The amount you have to pay for tutoring will depend on a range of factors. Specialisation is amongst the primary factors affecting cost. If your child requires tutoring in a particularly specialised field, or if they have learning difficulties or related issues, you are likely to find that you will have to pay more in order to secure a suitable tutor.
There are several large tutoring agencies, which specialise in placing tutors with students around the country. These agencies have some potential benefits. To begin with, reputable agencies will require that the tutors prove their abilities before being taken on – and they will also arrange criminal record checks. But you should remember that it is still often possible to find independent tutors closer to home. Many recent graduates turn their hand to tutoring. You might consider speaking to your local university or college, from which you might be able to get some recommendations. Generally, you can expect to pay upwards of £25 an hour for secondary school tuition, with the price increasing for specialist subjects.
Are there any grants available?
In 2007, the previous government indicated its intention to provide grants to families with children who it considered would benefit from private tutoring. The scheme was piloted and elements of the plan were adopted, with children who were struggling in literacy or numeracy becoming entitled to one-to-one tutoring.
In November 2010, this entitlement ended. One-to-one tuition was amongst the first things to go as a result of the government's cuts to education. As the situation currently stands there is no automatic entitlement to private tutoring, and there is no automatic financial support from the government.
There are, however, some charitable organisations that may be able to help. While the amount of charitable funding available for private tutoring is relatively low, it may well be worth investigating if you are struggling to pay. You should note that competition for these grants tends to be high. In addition, they are often made available only to children or families in specific circumstances – for example those from certain socio-economic backgrounds, those in specific parts of the country, and those who require assistance for specific subjects.
Frequently, however, the most difficult step involved in securing these grants is simply finding them in the first place. While there is no centralised database of such grants, there are several organisations that are trying to catalogue the offers as extensively as they can. You might try, for example, the Turn2us service, which aims to help people determine which grants and benefits they might be entitled to. You can search this database in several ways, for example by charity or by field. A 'wizard' can also help you navigate the service if you are confused about what you might need to search for.
How else can I pay?
It is important to remember, though, that many parents aren't entitled to a grant for private tuition – and they lack the financial capacity to hire a tutor. Stories abound of parents getting themselves into debt in order to pay the tuition bills.
It is vital that you think carefully before using credit to pay for a tutor. Of course, most people would rather avoid debt wherever possible and, with the economic future seemingly so uncertain, this concern is particularly acute. If you are considering this course of action you should think about speaking to your local Citizens Advice Bureau first. They will be able to give you personalised advice, and may be able to suggest local support to which you might be entitled.
You might also like...
i am looking to help out students with private tuition as their parents cant afford it i would like to apply for grants or charities if you could give me some namesmany thanks chumi
chumi
- 20-Jul-20 @ 12:11 PM