Suitable Activities for Children (0-3yrs)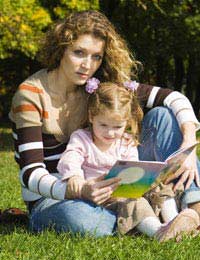 Between the ages of birth and three years old children learn new skills seemingly overnight. This is a period of rapid growth and development as youngsters grow from helpless infants into independent toddlers all on their own and the activities in which they engage should reflect this growth and development. While suitable activities for infants will necessarily involve a parent or caregiver, the same is not always the case with activities for toddlers. Regardless, suitable activities for young children should always be safe, enjoyable and appropriate for the individual child's skill set.
Activities for Infants
Infants are still very new to the world and quite defenceless when left on their own so a parent or caregiver should always be present to engage with them as they enjoy their activities. Though favourite infant activities may not seem terribly sophisticated, remember that for a little one only being introduced to the world even just a small bit of stimulation can teach them quite a bit. Infants are only at the very beginning of physical, emotional, social and cognitive development so easing them into simple activities will help them develop a solid base in each of these areas. Many parents enjoy a variety of activities with their infants, including:
Talking to them and singing to their baby as they go about their day.
Shaking a rattle or other "noisy" object.
Flipping through brightly coloured, soft books.
Using interesting puppets to capture their baby's attention.
Strolling around the block or a local park on a nice day.
Playing peek-a-boo.
Reading a short story before naptime and bedtime.
Listening to music during bath time and feedings.
Activities for Toddlers
Toddlers, or children older than about one year of age, enjoy many more physical activities than infants. Unlike infants, toddlers have begun to be mobile and can explore the world around them without the help of an adult. Unfortunately toddlers have not yet learned all of the safety precautions that go along with this independence, so adult supervision is still necessary. Most activities that are suitable for toddlers will help them practice their gross motor skills (walking, kicking, throwing, etc.), fine motor skills (drawing, cutting, buttoning, etc.) and/or overall balance and coordination. Many toddlers enjoy activities such as:
Stacking items or building with blocks.
Playing house/family with dolls and action figures.
Dressing up and pretending to be a character.
Drawing or "colouring" with crayons.
Cutting up or tearing paper or magazines.
Walking and running around, particularly outside.
Climbing, even on furniture, and bouncing, even on beds.
Kicking and/or throwing a ball.
Singing and chatting with adults or other children.
Suitable activities for children between the ages of birth and three years old will not only be enjoyable and interesting but will also allow the children to learn about the world and practice the many skills that they are slowly but surely mastering. While every child will have different favourite activities, in general children enjoy spending time with adults and can become enthusiastic about almost any activity if it is presented in the right light. Children may go through phases of enjoying particular activities, so if at all possible offer a child a choice of activities and expect to have fun with whatever is chosen.
You might also like...