Games That Encourage Maths and Strategy Skills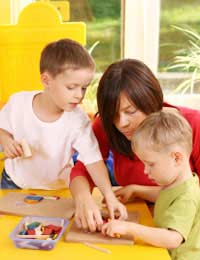 Not all children naturally love maths and the idea of sitting down with mum and dad to learn maths may not appeal. But what if playing a game could help encourage those all important maths skills? If you're keen to help encourage your child to like maths and develop strategy skills, then here are some practical and fun ideas for games that could do just that.
Board Games for Maths and Strategy Skills
Playing board games at home, with all the family, is not only great fun, but can also be highly educational too. There are some great board games available that focus on maths and strategy skills, both old favourites and newer developments.
If you have a Monopoly set at home, then this classic buying and selling game is not only fun for all the family, but can help children learn about buying and strategies. If they agree to be the banker, they can gain even more experience with dealing out the money and exchanging money for player.
The dice game Yahtzee helps hone in maths skills and the game, Connect Four, is enjoyed by children of all ages and, although it seems simple enough on the surface, a good deal of strategy is involved to work out what your opponent is going to do next. The newer board game, Blokus, is perfect for helping children develop strategy skills and the shapes of the pieces are useful for increasing knowledge of how mathematical shapes fit together.
When you're shopping around for new board games, always keep in mind the skills you'd like to help your children with and see what fits the bill.
Computer Games for Maths and Strategy Skills
Computer and video games have a come a long way over the years and there are now numerous games available for children of all ages. Although not all are educational, many do have an underlying educational aspect and help encourage and inspire children to improve skills, such as mathematics and strategy.
Often the games are available on a wide choice of platform, including those designed for a Playstation, Nintendo DS, Wii or Xbox, as well as the humble computer, so this is plenty of choice. Popular board games and children's TV shows often have computer game spinoffs, which it can make it even easier for parents to introduce the games, as the child will already be familiar with the game or TV characters associated with it.
Although it's not ideal for children to become utterly hooked on computer and video games and spend all their time playing them, it's certainly not necessarily a bad thing if done in moderation. Brain training games, maths puzzles, Sudoku and games involving strategy can all help exercise the brain and get children using maths without even realising they're doing so.
Other Games for Maths and Strategy Skills
Even when you don't have any board games handy and don't have access to a computer or video game console, you can still gain the benefits of using games to help your child's learning.
One of the most popular puzzles in recent years is Sudoku and this great mathematical strategy puzzle can be found lurking in many a newspaper and magazine throughout the week. If your child can't yet master the basic adult versions, look out for junior Sudoku puzzles.
When you haven't got time to play a computer or board game, Suduko puzzles can be picked up and filled in and they're great for leaving in the car or in a bag for when you're out and about.
You might also like...