The Benefits of Baby Gym and Soft Play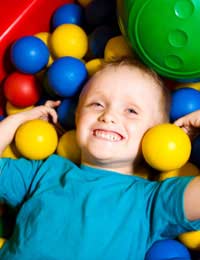 The benefits of physical exercise have long been recognised and, even for babies and toddlers, it's an important part of their development. If you've come across details of baby gym sessions or wondered if there's any point in taking your child to soft play, then here's an insight into how both these activities can offer benefits to growing babies and children.
Beneficial Baby Gym
As the name suggests, baby gym sessions incorporate simple gymnastic-style exercises for babies and toddlers. Research has shown that movement and exercise are both beneficial for children and that having the opportunity to take part in organised sessions, which are tailored to the child's individual age and stage of development, can have positive benefits on their learning and development.
Baby gym sessions are structured and held with a group of youngsters and their parents. The first stage classes for babies, which can start from six months of age, or when babies have begun crawling and walking, focus on trying to encourage infants to explore their environment and learn to play with others. Learning to crawl and walk are both important stages of development and it's well recognised that having the confidence to explore their own abilities can help children learn.
For toddlers and pre-school age children, baby gym uses simple movement, exercises and apparatus to help develop basic physical skills and, hopefully, encourage a lifelong interest in exercise and physical activity. Sessions aren't hard work and there's no major pressure to achieve set goals – although individual achievements are celebrated – and it's a chance for children to have a go, develop self-confidence in their own abilities, experience social interaction and learn new skills.
The Benefits of Soft Play
For parents, soft play centres have become a 'love it' or 'loathe it' location, especially as some centres have a reputation for being a place to offload hyper children for a while, whilst adults sit down and drink coffee. Whatever you think about the centres, there are definite benefits for children who are given the opportunity to have a go at soft play.
Research has shown that children who are regularly involved in active play develop well on many levels, including physical, emotional, mental and social. Where baby gym mostly focuses on organised activities and interaction, the idea behind soft play is for children to use their imagination and get involved in exploratory play.
The soft play apparatus is, as the name suggests, ideally designed to be soft so that it's safe for children to play on. At many soft play centres, there are multi-levels of play activities, including climbing frames, slides, ball pools, crawl tubes, rope bridges and scramble nets. Children can dive in and get exploring on their own, with friends or interact with other children who are already there and playing.
Active and exploratory soft play helps children learn new motor skills in a fun and stimulating environment. It helps develop physical activity and encourages children to enjoy exercising, but as it's essentially play it feels fun and exciting for them.
You might also like...
@ruchi - I'm afraid you are going to do your essay research yourself as we do not have this information.
KidsDevelopment
- 29-Apr-15 @ 12:25 PM
I would like to ask some question for a certain essay,and would be very happy to receive some answers. when did the softplay for children start? who invented the softplay and when?
ruchi
- 26-Apr-15 @ 9:07 PM