Play Dates for Children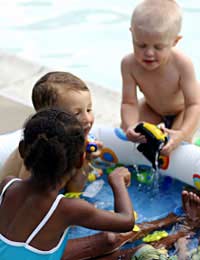 Play is so important to a child's well being and development that the United Nations recognises it as a fundamental right in their Declaration of the Rights of the Child. While many children the world over are unable to engage in the joy of play children here in the United Kingdom are usually lucky enough to have ample opportunity to play by themselves, with their parents and with other children. This is a good thing too because play is actually hard work for children. Children discover the world around them through their play, so what may seem like frivolous activities are often complex research tasks for the children involved. Play dates are a great way for children to get together and further their skills, but many parents have questions about play dates. Please read on for answers to frequently asked questions about play dates for children.
What is a Play Date?
A play date is just what it sounds like – a date set up so that two or more children can play together. Though the activities that occur during a play date may be no different than if the neighbourhood children found each other and played together, it is the formal, scheduled nature of these events that make them different from more informal gatherings.
What Happens During a Play Date?
Just because play dates are scheduled does not mean that the activities in which the children will engage will be formal. What happens during a play date is truly up to the parent who is hosting the event. Some parents allow children to play outside, some offer arts and crafts activities and some simply leave it up to the children to decide.
How Many Children are Invited to a Play Date?
Again, it is up to the parents hosting the play date to decide how many children will be invited, but usually there are not more than two of three friends invited at any one time. Play dates, though formal in the scheduling sense, are usually more intimate and a larger group of children would result in more of a play group or party feel. Often parents will invite another child for a play date and ask the mother/father in as well for some adult time while the children are occupied.
What Can Parents Ask the Play Date Host?
This is almost a trick question because parents are always "allowed" to ask the play date host anything they want in regards to their children's well being. Asking what activities are planned, how many other children will be in attendance, what snacks are being served and if their own child can/should bring anything to the date are all questions parents may have regarding play dates. However, parents should take care to ask these questions with tact so as not to make the hosting parent uncomfortable or feel as though his/her parenting skills are being questioned.
What Should Parents Tell a Play Date Host?
Parents can tell a play date host almost anything they want about their child, but they should limit this information to only what is truly important for the date. Any allergies (food or otherwise) or medical conditions should always be mentioned.
Do I Need to Host a Play Date?
Parents should only do what they are comfortable with, but if a child has routinely accepted play date invitations from other families then it will probably be expected that they reciprocate the invitations.
Why are Play Dates Important?
Play dates are important because they give children a chance to play! Playing with others helps encourage a child's social and emotional development, as well as cognitive development and language development. Play dates also help children implement the skills and knowledge that they have gained individually or at school, make friends and enjoy the time spent in the company of others.
Play dates are a relatively modern phenomenon, one that has developed as a result of increasingly busy and structured schedules. Many parents embrace play dates as a way of ensuring that their children get to spend time with friends while others shy away from play dates in favour of less scheduled play. No matter how a parent feels, as long as (s)he accepts or rejects play dates with his/her child's best interests at heart all will likely be well.
You might also like...