Play Groups for Children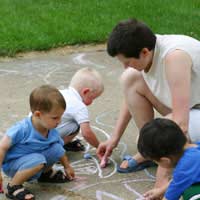 Play groups for children whether they be informal at the local park or part of a formal means of childcare such as at a carer's house or in a nursery, afford children the opportunities to make significant strides in their development. Obviously each play group will differ, but the fact of being exposed and expected to play with others helps children develop both socially and emotionally, while the skills required for playing with others helps children further their cognitive development as well.
Social and Emotional Development
Social and emotional development depends, logically, on the acquisition of the social and emotional skills deemed necessary by our society.
Play groups afford children the chance to advance their development in these areas as they necessarily require children to socialise and thus learn the social cues present in the wider world. For example, much of the play that occurs in play groups is cooperative which means that the children involved must learn to share their toys, take turns with certain items, follow the group rules and refrain from inappropriate behaviour such as hitting, kicking or stealing from others. Children will not always arrive at play group with these skills, but as they engage in more activities with others such expectations will become second nature.
Cognitive Development
A large body of research suggests that play contributes heavily to the cognitive development of children. Cognitive skills are those that are connected to thinking and learning, and since play is actually a way in which children "research" the world, playing allows children to test and develop these skills. For example, studies have shown that play helps children develop cognitive skills related to focusing attention, planning, creativity, imagination, divergent thinking (creative or "out of box" thinking), perspective taking, memory and language development. Language development in particular is supported in play groups for children where communication with others is crucial for fulfilling and fun activities.
Creating a Play Group
Most local areas of the United Kingdom have play groups at nurseries, community centres, churches and more, but some parents may need, or prefer, to create an informal (not for profit) play group for their children.
To begin with, parents should decide what type of play group they want – how many members, what age range, for what purpose, etc.
Approaching other parents with children of similar ages will be key for getting together a core group, and advertising on local notice boards, newsletters and in community newspapers will likely result in even more members.
Securing a suitable location such as members' homes, a school or church hall or even the local park, will then influence the types of toys and activities offered to the children.
Figuring out the adult supervision, play schedule, offerings for snacks and supervised activities will then need to be discussed with the parents of all members. It is likely that parents will need to address new issues as they arise in the group, so everyone involved should expect a few growing pains at the start.
Play groups are fantastic tools not simply for children to meet others and make friends, but to further their social, emotional and cognitive development as well. Play groups do tend to exist in most areas of the UK, but parents can also create local play groups of their own if so desired.
You might also like...
Hi, My son goes to a fantastic play programme called Rugbytots. We joined about 6 months ago, and the club has brought him so much confidence, new friends and new skills we are so surprised at! He wears a little kit every week, and really feels part of a team. The coaches are brilliant, especially as first he was very shy and timid, not wanting to join in at all, and they were very supportive and encouraging (I have a little girl so helping him was quite hard!) He really has come so far, and just goes to prove that a club really can make all the difference. Would thoroughly recommend this club to anyone (we are based in Kent, but they have them all over) Thanks A very happy Mrs Wilson :-)
Kats
- 25-Mar-13 @ 4:25 PM