How Play Therapy Helped My Child: Case Study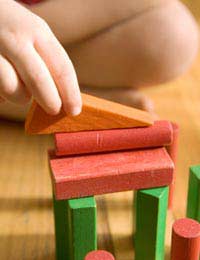 If you're ever wondered what play therapy involves, or if it might offer some degree of help for your child, then here's some interesting insight into how it's proved beneficial for one woman's child.
When Alison divorced her husband, after suffering years of abuse, it became evident to her that her daughter, Evie, was experiencing the effects of all the changes and upsets that they'd been through. In a bid to help her daughter deal with the changes and express her feelings, she sought help from a professional play therapist. Here she shares how play therapy helped her daughter.
Q: Why did you choose to send your child to a play therapist?
A: I was increasingly aware of how my life situation was affecting Evie. Even though the awful marriage had ended and I'd been through the divorce process, Evie was still showing signs of trauma. For example, she'd started wetting the bed, often got frustrated, angry and tearful and had gone from being a happy, friendly, smiling child to a rather miserable young girl.
After speaking to various medical professionals, including my doctor, they suggested that a play therapist might be a good option.
Q: What does a typical play therapy session involve?
A: The idea behind play therapy is that it offers a child support for their emotional or behavioural problems through play. The play therapist regards play as being the natural way in which a child expresses themselves. So rather than asking lots of questions about what was wrong and how they felt, she was able to act out her feelings and emotions, through creative play, drawing, painting and role play acting.
Q: How many play therapy sessions were required?
We attended a couple of assessment sessions first, so the therapist could get to know Evie and get an insight into the issues she was experiencing. It apparently also gave her some ideas for the types of play activities she could use. For example, Evie really like drawing and crafty activities, so play therapy sessions drew on these areas a lot.
After that, it was suggested that an initial set of eight play therapy sessions would be a good idea. When the first aid were over, her therapist reviewed her progress. She'd achieved a lot, but we then had a final series of six sessions to help resolve final issues and tie up loose ends.
Although we've now finished the sessions, the play therapist also helps run a children's play group, so we do attend that fairly regularly. A lot of the other children have all been through similar experiences, so there's a lot of support and understanding.
Q: How did seeing a play therapist help your child?
A: Evie was able to communicate her thoughts, feelings and experiences to the play therapist through drawings, paintings and other play. The role play, where they acted out scenarios and helped her develop ways to cope with negative feelings, were very helpful and the play therapist suggested some easy-to-understand ways in which Evie could deal with both past and future experiences.
By the end of the sessions, Evie was happy, confident and cheerful and her drawings had gone from bleak and dark to vibrant, life-filled and colourful images.
You might also like...