How Speech Therapy Helped My Child: A Case Study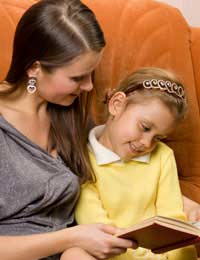 It's not uncommon for children to experience difficulties with their speech and many children benefit from some sessions with a speech therapist to help rectify any issues at any early age. If you've ever wondered exactly how speech therapy works or what a typical session for a child involves, then read on to discover one family's experiences.
"When my son first began talking, we became aware that he had a bit of a stutter and was unable to properly say some vowel sounds," explains Tina from Worcester. "At first we weren't too concerned about it, as we'd heard from other parents that some children take a while to master the art of talking. But as the year went on and all his friends were able to chatter away, and Tim was still struggling to get out only basic words, we got more concerned."
Tina raised her concerns about Tim's speech with her health visitor, who suggested that seeing a speech therapist may be a good idea. "We heard that the waiting list could be up to one year, as the service is in demand, but we went ahead and got him on the list," says Tina.
First Session With a Speech Therapist
"Thankfully, we didn't have to wait that long and within five months we had our first appointment. I wasn't quite sure what to expect, so tried to go in with an open mind. The speech therapist was experienced in helping children with stammering (we'd heard that sometimes they aren't) and immediately put us all at ease.
At the first session, the speech therapist focused on building up a case history. She wanted to know if stammering runs in our families (we weren't aware of any other cases) and what particular speech and words Tim had problems with. She then went on to assess Tim, by talking and playing with him."
Further Speech Therapy Sessions
After the initial session with the speech therapist, the family subsequently had weekly sessions, both involving Tim and his parents, and chats with just his mum and dad.
"As well as working directly with Tim, a lot of the early sessions focused on how we, as parents, could help Tim with talking. The speech therapist helped identify the common words and phrases that caused him particular problems. She also looked at the other demands and pressure that Tim could be under, such as exterior demands, like learning other skills, and internal demands, like struggling with his inability to express himself properly.
All of this was very helpful to us and gave us a better framework for helping Tim at home. Changes weren't instantaneous, but we did begin to notice improvements after six to eight weeks of sessions," explains Tina.
"Tim's now able to fully and properly pronounce vowel sounds and is chattering away like any other child. As his stutter was only mild, the early intervention worked wonders and he's now virtually stutter-free. He does go back for occasional sessions, which are now dealing with boosting his confidence up about talking in front of other people, but you wouldn't really know he ever had a speech problem."
Tina says she's since met other mums who feel embarrassed or shocked by the idea that their child may need speech therapy, but urges anyone to give speech therapy a go.
You might also like...