Anxiety and Depression in Tweens and Teens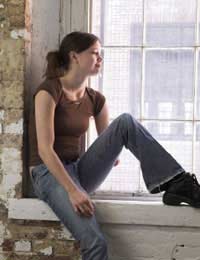 It used to be that depression and anxiety disorders were thought of as adult issues, but many tweens and teens are now suffering from not only panic attacks, but major depressive disorder, which can put them at risk for suicide. Parents or teachers who notice symptoms of depression or anxiety in kids and teens should take action - ignoring the situation can put kids' lives at risk.
Panic Attacks and Anxiety Disorders in Kids and Teens
Panic attacks, with feelings of extreme fear, typically last no more than ten minutes each, but they can leave lasting impressions on kids and teens who experience them. Symptoms of a panic attack can include nausea, sweating, dizziness, heart palpitations, shortness of breath, and a feeling of impending doom. These symptoms are upsetting and when panic attacks persist, they can lead to panic disorders, which can have a dramatically detrimental effect on kids' lives because they spend a great deal of their time worrying and anticipating additional episodes. Untreated, panic attacks and panic disorder can leave tweens and teens unwilling to participate in activities for fear that they may be embarrassed by having a panic attack in front of others.
Depression in Kids and Teens
All kids feel sad sometimes, but for some tweens and teens, these feelings last and may be accompanied by other symptoms, classifying their condition as depression or major depression. Symptoms of major depressive disorder may include:
Sadness, anxiety, or feelings of hopelessness.
Unexplained stomach aches, headaches, or feelings of fatigue.
Sleeping difficulties.
Loss of appetite.
Loss of interest in pleasurable activities.
Preoccupation with illness or death.
Parents who recognise depression in kids and teens should seek help immediately, because depressed tweens and teens are at increased risk of suicide. Even those depressed kids who are not suicidal may lose out on some of the pleasures of childhood because of their condition, which is a shame because depression is highly treatable. Treatment options vary, depending on the age of the child, the severity and duration of the symptoms, and the suspected cause of depression. Sometimes, a stressful life event precedes a depressive episode, but on other occasions, no specific cause can be determined.
Moody Kids and Teens: What's Normal?
Most kids and teens are moody at times, so it can be hard for parents to discriminate between normal behaviour and cause for concern. Short term (less than two weeks) sadness is usually not thought to be alarming, but when feelings of sadness or hopelessness persist, a larger problem may exist. Kids who were once good students but are now apathetic about their academic responsibilities may be depressed, and any child who talks about suicide should be evaluated by a mental health professional. While most kids who talk about suicide are not planning to take their lives, some are calling out for help and are counting on those around them to take them seriously. It is far better to seek assistance unnecessarily than to have ignored the symptoms of depression, which can have tragic consequences.
You might also like...