Emotional Insecurity in Tweens and Teens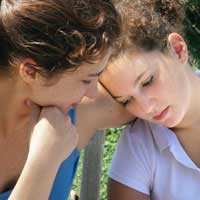 Emotional insecurity is often described as a state of general unease or tension. Tweens and teens who suffer from emotional insecurity often feel that they have no talents or value and therefore can not believe that others truly love them or want the best for them. Often these pre-teens and teenagers feel that happiness or anything positive is only temporary so they may be constantly on guard that things will again turn sour or go wrong. While there may be one defining action or event that has brought about such emotional insecurity it may be just as likely that is has simply stemmed organically from the tween or teen. Parents who notice such emotional insecurity in their children should take care to try to build up their child's self confidence, discuss their child's emotions and be prepared to turn to therapy for their child if it looks as though it may help.
Building a Tween or Teen's Self Confidence
Pre-teens and teenagers are trying to navigate the world and find their own selves at the same time so this can be a very hard time for them. Parents can help by actively attempting to build a tween or teen's shaky self confidence. Smiling at their children, holding eye contact while speaking, encouraging them during a difficult time or task, praising them for a job well done, asking for their opinion and taking an interest in their interests are all ways that parents can help build their child's self confidence. Parents should also be aware that their opinions and promises mean more to the tween or teen than that child lets on, so off hand remarks or saying that they will do something without meaning are two ways that parents can very well undermine their child's self confidence and self esteem.
Discussing a Tween or Teen's Emotions
By its very nature emotional insecurity involves a tween or teen's emotions, so parents who notice this insecurity in their tween or teen should consider discussing it with their child. This will not be an easy thing to discuss but there is also no need to make a big deal out of one discussion. Instead, parents should look for ways to ask their children how they feel about particular things. This can be as easy as asking about school and following up with "and how did you feel about that?" or watching the news and asking "what do you think about that?" These questions may elicit some surprising answers from so the more that parents ask them the more they may come to learn about their own children.
Considering Therapy for a Tween or Teen
If parents are unable to affect a change in their tween or teen's attitude, behaviour or emotions then it may be that therapy will help the child with their emotional insecurity. Therapy is a safe haven in which a tween or teen will be able to discuss their life, and everything and everyone in it, without judgement or fear of reproach. Many tweens and teens may find this a liberating experience and will enjoy having a therapist all to themselves. A GP may have more information on therapists for tweens and teens, or the British Psychological Society (www.bps.org,uk) or the British Association for Counselling and Psychotherapy (www.bacp.co.uk) will likely be able to offer more information.
Emotional insecurity may make tweens and teens feel helpless and hopeless. If your child is showing signs of emotional insecurity do not hesitate to find out more about the situation and act quickly to help rectify it.
You might also like...
ummmmm mmmm im having a hard time because im startin a new school
smart ppl
- 25-Oct-13 @ 10:08 AM
Most teens are insercure because of what others tell them, im a teen and i KNOW being called ugly stupid wothless Etcc hurts !
Jillybeiber
- 5-Dec-12 @ 6:07 PM
Therapy is more common now than it was a generation ago, but in most cases it won't be necessary. Yes, these are very fragile years when the children are finding themselves, but with good reassurance and a supportive family they can get past them and into a secure, confident future. Always boost the child and offer plenty of praise - along with guidance when it's needed. Don't be afraid of giving hugs, as they can give a great deal more than embarrassment.
Cathy
- 6-Jun-12 @ 7:18 PM