Help Your Child Survive the First Year of Secondary School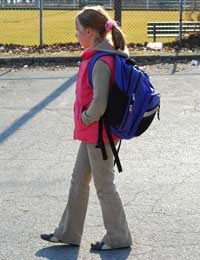 Going from 'little school' to 'big school' marks a real turning point in a child's life. Suddenly they have to become more responsible about their day, find new friends and navigate a bigger building to their new classes. So what can parents do to help out? Follow these easy tips to make the change-over less stressful for your child.
Establish a Routine
Nothing's better at making the unknown seem less scary than setting up a routine and sticking to it. So before 'big' school starts, encourage them to think about what they're going to need for each day. At secondary school they'll be responsible for getting their own lunch, remembering their sports kit and sticking to a timetable. Make a list with them and get them to practise packing what they'll need in their bag. To help them on their way, make a copy of your child's timetable. That way you can double check if the contents of their bag is correct every morning.
Another good routine to get into is preparing a healthy breakfast. Try and limit sugary cereal to the weekend and instead put wholegrain cereal, or wholemeal toast on the table. Smoothies are a good way to get fruit into kids - but if they're not fans you'll have to put an apple in their lunchbox and hope they eat it!
Stay Safe
Now that they're gone for most of the day they'll have to know what to do in an emergency. If you can, put yours or a friend's work phone number into their mobile just in case anything happens. Going to 'big' school often means finding the way there without Mum. So try and rope in older siblings to show them the way, or send them off with some friends that you trust.
It may sound 'babyish', but it's worth reminding them all about the Green Cross Code. Let them know that road safety is important, especially during the darker winter months, when they may be less visible to drivers. If they want to cycle, check their bike is up to scratch and make sure they wear a helmet.
Handling Homework
One of the biggest transitions for children, and parents, is learning how to deal with homework. What's set varies from school to school, but most tend to average around an hour every night. Try to establish a quiet place (away from the TV or other distractions) that your kids can work without interruption every night. If they insist they have to use the internet, monitor that they're looking at sites that are suitable for schoolwork!
Though most kids (and parents) hate it, homework is good for instilling a sense of discipline. Try and help them understand that getting a job out the way quickly, and not putting it off until another day, is much more fun than procrastinating. Be interested in what projects they are working on and they're more likely to be interested too.
Talk it Out
Many children find the leap to a larger school difficult. But it's hard to judge what they are going to find traumatic. Keep a check on their well-being by asking them how each day went. Try and ask more specific questions (like 'Is there any lessons you don't enjoy') to tease out potential problems. Let them know that all the kids in the class are adjusting. Even the most outgoing, confident children may be finding it hard to deal with new things daily.
You might also like...