Golf for Kids' Development and Behaviour?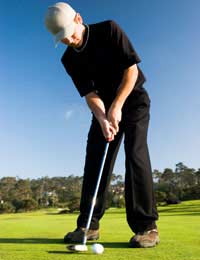 Golf is truly a brilliant sport, not only for you, but also for your children. Spending a few hours on a golf course is an excellent way of spending quality time with your child and getting away from the tedium of the television and indoor activity.
Though your child may not be ready for the golf course straight away, there are certain stages you can take before preparing him or her for the grandeur of the golf course. Starting off in your back garden or local park is an excellent way to start the hobby. All you need here is a putter and a few balls. If an artificial putting hole is unavailable, a simple plastic marker can serve as an objective or target for the golf ball.
Of course, if you want to take the next step and teach your child the perfect swing, many golf clubs provide cheap driving ranges where you can go to practise your swing or alternatively teach your child how to become the next budding Rory McIlroy. Most golf courses have driving ranges and all are relatively cheap and charge by the ball rather than by the hour. This means that you have ample amount of time and opportunity to teach your child how to play without worrying about the clock.
If you are unable to play yourself and are worried about teaching your son or daughter, many golf courses offer training and practice sessions where both you and your child will be able to learn side by side, finding a mutual respect for a new sport at the same time.
Most people are also put off by the expected price that one might have to pay whilst playing golf. However, a junior set of golf clubs you can be found from around £60 on the internet and golfing clothes can be equally as cheap as casual clothes that he or she may wear to play on the street with. Using gloves helps protect their young hands and is also an excellent way to teach your child how to appreciate new types of clothing that are unfamiliar or unusable in other environments.
Now that you've got your golf gloves on, and you understand the reasons for teaching your child golf, just what are the benefits?Golf is a sport where mutual respect amongst players is a key factor in the mechanics of the sport. What other sport can you find where players genuinely mark themselves down for making mistakes? Honesty is important as only the golfer himself keeps count of how many strokes he takes. This is a brilliant ethos to teach a child of any age. Whereas conventional classrooms often leave children with attention problems in the lurch, golf is a physical and hands on activity and can teach children the benefits of hard work and patience.
Some parents also like to teach children suffering from behavioural problems, musical instruments such as the guitar or drums. These can be great tools during a child's life and can offer them many life skills and benefits. Golf however, can go that one step further. Whereas drums and guitars are usually disbanded during the early twenties, golf offers a lifetime hobby that can also serve as a beneficial tool during a persons working career.
More and more often you will find companies offering their staff and clients golfing trips and days where key networks and bonds can be made between people. There's nothing worse than working in an environment of sports fans when you only play the guitar.
Of course, not only is golf brilliant for keeping up with physical health, but as any expert knows, brilliant physical health is also a major tool in maintaining the health of the mind. Thanks to the release of endorphins in the brain during exercise, euphoria can often be felt afterwards which can help reduce stress, improve sleep and boost self-esteem.
The Author
This article was provided by Gregg Turner who looks after one of the UK's largest online golf stores Direct Golf.
You might also like...