Reasoning and Intelligence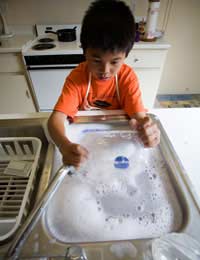 The term 'intelligence' can mean different things to different people. Some simply define intelligence as capability in problem solving skills while others feel that it is more about a person's capacity to adapt and learn from experiences. In any case, reasoning ability is likely to be a good indicator of intelligence, since it involves both processes - drawing from previous knowledge and being able to apply it to resolve new problems and issues as they arise.
Emergent Learning
Years ago, teaching methods typically involved an instructor providing students with facts and assorted information that they were expected to memorise. These days, a more interactive style called emergent learning is often utilised, where the teacher continually adjusts lesson plans to coincide with the direction that class work and discussions may go. Children are encouraged to seek answers, rather than being given them, helping to develop their reasoning abilities and problem solving skills.
Beyond the Classroom
While classrooms are the cornerstone of learning environments, they are in no way the only atmosphere designed for education. Children who are exposed to a variety of real-life scenarios have the benefit of exercising their minds, building reasoning by experiencing life in a hands-on fashion and building a bank of knowledge that they can later draw from when needed. Parents and educators can help children to become independent thinkers by posing questions that require more than 'yes" or 'no' answers, instead expecting kids to hypothesise and draw conclusions based on a combination of ready knowledge and well-thought out expectations.
Little Learners
Even very young children are active learners, so parents and other carers should make an effort to encourage their desire to experiment and learn about the world around them. Toddlers already have a wealth of knowledge about their little corner of the world, learned largely from observing the actions of those closest to them. Encouraging little ones to do things for themselves builds not only their confidence, but their actual abilities, so while allowing toddlers to actively learn from their everyday experiences can take longer and be messier (much!) than simply doing things for them, the reasoning skills that they are building are well worth the extra effort. The following are simple ways that toddlers can be encouraged to develop reasoning skills:
Work on a sand and water table, allowing kids to fill and pour assorted cups and bowls.
Use descriptive language, pointing out colours, sizes, and shapes.
Engage toddlers in household chores, allowing them to help sort laundry or measure ingredients when preparing family meals.
Ask toddlers to follow simple instructions, preferably with multiple steps.
Encourage creativity and imaginative play.
Establish regular routines so that toddlers can learn what to expect.
When reading to toddlers, ask leading questions about the characters, events, and expected outcomes of stories.
Encourage artistic expression, providing blank paper and assorted other supplies.
Building Intelligence
Can intelligence actually be increased? Children are certainly born with a certain degree of inherent tendencies, but many child development experts believe that nature is only a part of the picture. Parents who encourage their children's natural curiosity and provide opportunities for their kids to practice reasoning skills are sure to help the kids to best reach their highest potential. Children who are allowed to try new things, experience life in a hands-on way, and are actively engaged in conversations where their input is encouraged and respected have an advantage over children who are given fewer opportunities, so parents have a great responsibility to nurture their children's growing minds. So, the question remains - can intelligence be increased? That may be impossible to answer, but one thing is certain. Intelligence potential can definitely be increased.
You might also like...
thanks a million for providing good resources for us like these. They are really helpful to me. ko bati n rabwa that how to say thank you in my language.
zio
- 28-Nov-11 @ 9:58 PM