Children and Learning Through Art and Crafts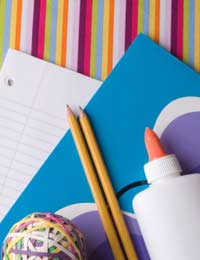 Did you know that you could help your child's learning and development by letting them have a go at art and crafts? It's true, as children learn new skills and broaden their knowledge base by taking part in a variety of activities, including creative activities such as art and crafts.
When it comes to children learning through doing art and crafts it doesn't have to be complicated, expensive or involve time-consuming activities, nor does it have to be areas that you have heaps of experience in. If you happen to be into art, or enjoy crafts yourself, then that would be great if you could pass some of your knowledge and interest on to your children, but it's by no means a necessity for parents to have an arty tendency.
In fact, children can experience the basics of art and craft from the most humble of beginnings. At home, you begin to introduce young children to the concept of art and craft through the use of simple materials, such as crayons, pens, paint and paper; as they get slightly older, you can introduce glue, glitter and scissors to the equation.
For many children, their first introduction to the world of art comes through making simple hand prints in paint at home with the family. Parents enjoy keeping a record of their child's first hand print and the child gets to experience the wonders of paint. If you shy away from using paint to often at home, for fear of it being splashed around in all the wrong places, then consider taking your child to an art or activity class instead; art and craft is also often on the schedule at day nurseries and pre-school.
Skills Learnt Through Art and Crafts
The activities children are typically involved in with art and craft sessions may seem pretty basic, but they're a hotbed of learning and development for children. There's a lot of skill involved for children in learning to hold and use crayons, pencils and pens correctly, so the more practice they have available to them at home, the easier it will get.
For example, reception classes don't always expect children to have learnt to write their name before they get to school, but it does help if they've got some coordination skills already in place to enable them to pick up writing.
Another technique that can be learnt is that of using scissors. Supervision is of course required and, as well as helping children learn to cut paper in a controlled manner, the art of using scissors also helps build up and fine tune important motor skills. The same goes for holding and using a paintbrush and both activities help to develop important coordination skills and strength in the hands and arms.
Using glue, getting messy with glitter, seeing how things stick and mixing colours together to create new ones are all part of early learning experiences and help broaden children's knowledge base.
In addition, doing arts and crafts, creating new things on their own and being involved in group projects can all boost children's self-confidence and help them develop new skills they didn't know they had.
You might also like...
what are the skill develop in childern while they are doing art and craft
sazi
- 18-Jun-13 @ 12:40 PM