Parental Influences on Children's Development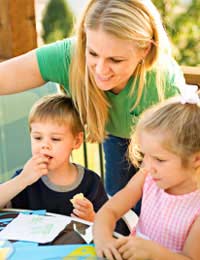 While children are influenced by many things there are no stronger influences than that of their parents. Parents are usually their children's very first playmates, and while their worlds expand with each passing year, parental influence is still one of the greatest factors in determining the ways in which the child will grow and develop.
Encouraging Exploration
Naturally, parents want to see their children do well. Sometimes, though, in an effort to keep kids safe, parents inadvertently hold their children back from exploring the world around them, lessening their chances to learn and progress. While it is certainly understandable to want to shelter children from harm, parents who are overprotective can sometimes limit their children's potential. Ideally, children should be given increasing amounts of freedom as they grow and mature, allowing them to gradually learn new things and meet new people, increasing their physical, emotional, and social development.
Healthy Habits / Healthy Kids
Parents who eat well and are physically active provide great examples for their growing kids. Offering children a nutritious diet rich in vitamins and minerals provides them with the necessary nutrients to support healthy growth and development. Additionally, encouraging active play and incorporating physical activity into daily life will help children to build muscle, increase coordination, and develop self-confidence. While young children have a natural tendency to run and play, older kids are likely to develop habits similar to those of their parents. If for no other reason than to instill good habits into their children, parents should make an effort to sustain an active, healthy lifestyle.
Social Beings
Socialisation is important for children. Parents who offer their children varied opportunities in which to meet new people and experience new things give their children an invaluable gift. When they are babies, children need no more than the attentive, loving care provided by their parents, but as they grow, it is beneficial for children to expand their worlds by befriending other people and learning about different cultures. Children who gain a sense of confidence in their ability to interact with people will take that with them into adulthood, making both their personal and professional lives easier to manage.
Intellectual Stimulation
When a baby is born, they are filled with undiscovered potential. Will they be musically inclined? Athletic? Scientific, analytical thinkers? One of the most important jobs of parents is to help their children to uncover and nurture their unique gifts. Providing children with a variety of experiences, from art classes to horseback riding lessons, will help them to develop their strengths and maybe, if they are very lucky, to discover a passion for something that will help them to shape their lives.
Not every family has ample enough budget to allow for travel, summer camp, or violin lessons, but every family can help their children to learn about the things that interest them. Utilising the services of the public library opens children up to a world of possibilities, allowing them to study the things that they find appealing. Creativity and intellectual stimulation need not be expensive, but parents do need to make the effort to provide outlets for their children's growing pursuits.
You might also like...