External Factors Affecting Social Development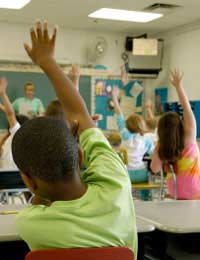 While family members have the greatest impact on the lives of babies and very young children it doesn't take long for the outside world to become influential, as well. The social development of children will surely be impacted by factors that are out of the control of parents, either positively or negatively.
School is Important
For children, school is about much more than academics. It is also the place where they learn to develop some of their first important friendships, learn that the world may not see them in the same way that their family does, and in time, come to appreciate the feelings and input of others. Sensitive, caring teachers are blessings, especially in the early grades. Many children stumble a bit as they learn to make friends and be a good friend. Young children are very self-focused, so the notion that there is a whole world of people out there that they must learn to cooperate and compromise with can be a bit unsettling at times. Teachers who provide patient guidance and understanding as the children learn to socialise well can help kids to learn important lessons about thoughtfulness, sharing, forgiveness, and acceptance.
Economic Factors
Studies show that children who live in impoverished areas have a harder time socialising than their more affluent peers. There may be several factors to account for the differences, but one of the most important is that the community as a whole likely has limited access to social opportunities. In towns with a comfortable economic demographic, there are typically many organisations that offer fun and enriching experiences for children, but in communities where money is especially tight, residents do not have the necessary funds to support music lessons, art classes, children's clubs, athletic opportunities, or other extra-curricular activities that provide kids with opportunities for social development.
Fitting In
While parents are always inclined to see the unique beauty of their children, other children may not be quite as accepting. While it is certainly unfair, there will always be some children who seem to be singled out by their peers-- less accepted because they are "different." Bullying and playground taunting seem to be universal experiences amongst school aged children, and there is often little that parents can do to stop it once it has begun. What they can do is to offer their own children the tools that they need to cope and flourish, despite the negative responses that they endure from other kids, while enlisting the help of school officials in controlling the behaviour of school bullies. Encouraging kids to seek out a few loyal friends, developing each child's personal strengths in order to build self-esteem, and providing opportunities for non-school related activities where children can grow socially can all be helpful steps to let a bullied child understand that they are special and worthy.
Stress
A generation ago, the word "stress" was reserved for adults, but these days, kids are often subjected to their own stressors. Over-scheduling, family difficulties, school and social commitments, limited outlets for active play, and exposure to frightening media influences can all be sources of stress for children.
Children are highly susceptible to the constant barrage of news, advertising, and celebrity influences that are common in the lives of today's kids. Parents would be wise to closely monitor their children's exposure to media since kids don't always have a clear understanding of the stories and images that they see.
Frightening movies, violent video games, and even news broadcasts can all leave kids feeling uncertain and insecure. Providing kids with a solid, secure base is vital for healthy emotional development and without this foundation, social development is negatively impacted. Children who are nervous about their own safety cannot be free to focus on the joys of being kids -- playing, making friends, and developing a good sense of self. Taking steps to assure that kids feel safe and secure is one of the most important jobs of parents and others who are interested in the welfare of children.
You might also like...
I like dis page a lot because it helps me understand the children am going to teach.
Princess
- 17-May-18 @ 7:37 PM
This has thoroughly helped me understand my childs behaviour towards school. With this information it has come to great pleasure to teach my child from right from wrong. Very helpful information! Keep the articles coming.