Montessori Teaching Approach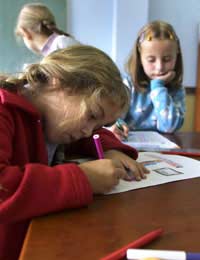 There is much public confusion about the Montessori teaching approach. This is largely due to the fact that since Montessori is not a registered name, some schools advertise themselves as Montessori without hiring Montessori trained teachers or utilising Montessori materials.
Because of the wide variances in so-called Montessori schools, their reputation can range from chaotic free-for-alls where children run unattended to rigidly run academic sweathouses. Neither extreme is representative of true Montessori teaching, in which children progress well, flourishing under the guidance of caring teachers interested in the individual development of each child in their care.
Absorbent Minds
Maria Montessori observed that children under six seemed to absorb information effortlessly, merely by living and interacting in everyday ways. She believed that the foundations that they built these important developmental years would establish the basics for the adults that they would someday become. She also identified certain "windows of opportunity" when children are naturally drawn to the things needed to help them to reach their fullest potentials. Montessori classrooms are set up to capitalise on these tendencies in young children, offering an array of real life scenarios in child-sized versions.
Children are grouped together in mini-communities, with kids of several ages working together (for example, kids 2-6 are often combined) to encourage the social, emotional, and intellectual development of all participants. Younger children learn from observing older kids, while the older children benefit from providing assistance to the little ones. Classroom equipment is cared for not only by staff members, but by the children themselves, promoting the idea that society members work with one another to make life better for all.
Hands-On Learning
The Montessori teaching approach is unique in many ways, not the least of which is the hands-on characteristic, in which kids learn by doing, rather than by being merely told or shown. Classrooms normally consist of four areas: Practical Life, Sensorial, Language, and Mathematics. Practical Life encourages activities such as cleaning, sweeping, pouring, buttoning, cooking, etc. Sensorial activities are designed to stimulate and train hearing, touch, smell, visualisation and taste, encouraging kids to classify the physical properties of their world. Materials for language and mathematics consist of hands-on activities, rather than textbooks. Other subjects, including geography, zoology, art, music, and botany are learned through hands-on experiencing, as well, with many classrooms hosting class pets and tending living gardens.
Independent Progression
Children in Montessori schools choose their own activities, moving along to another only when they feel ready. Children can work independently, in tandem with another child, or as part of a group, but all children are welcomed and encouraged to explore at their own pace. True Montessori schools will set aside blocks of time at least three hours long, allowing children ample opportunities for concentrated play and exploration. Montessori students are encouraged to do and think for themselves, promoting confidence and problem solving skill development. Onlookers are often surprised at the capabilities of these children, working both independently and as part of a small community of children, learning to interact and cooperate all by practicing everyday life skills.
Teachers as Helpers
Montessori trained instructors do not sit at the front of classrooms at large, imposing desks. Instead, they move about through the room, observing students and stepping in only when children encounter difficulties. Adults do show students how to do things, but they then allow the children to work on mastering skills somewhat independently. When children are working productively, teachers with Montessori training observe and assess the children's advancements so that they can show the children new things once they have mastered the initial concepts, enabling kids to be continually challenged but allowed to take the time that they need to learn and grow at a comfortable pace. Directors of Montessori schools put children in charge of their own learning processes, one of the key elements to the Montessori approach.
Choosing Montessori Schools
Since some schools refer to themselves as Montessori without actually utilising Montessori methods, parents must exercise caution when choosing a school for their children. Directors should welcome visits by prospective parents so that they can observe a classroom in action. Additionally, parents may want to check out a website that provides information on Montessori schools in the UK. Montessori Education UK (MEUK) is an organisation that represents some of the colleges currently training Montessori teachers and offers accreditation to schools that closely follow the Montessori guidelines. A listing of these schools is available on the MEUK website, www.montessorieducationuk.org. Spending a few minutes online may save parents a great deal of time in searching for just the right school for their children.
You might also like...