Encouraging Academic Skills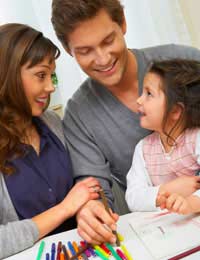 Parents fully understand the importance of a good education, and know that it is imperative that they encourage their children to do well in school. Instilling good attitudes about schoolwork is one of the many tasks of parents who must teach their children to make the most of their educational opportunities.
Start Young
Many "academic" skills are really about organisation and responsibility, so parents who require their children to take good care of their things, understand that their actions have consequences, and adhere to the house rules are laying the groundwork for later educational success. Chaotic households without routines or well-established and enforced rules are likely to produce children with lax attitudes about deadlines, who may have a hard time adjusting to the more rigid expectations of a school setting.
In addition to teaching children a basic sense of responsibility before they head off to school, parents would be wise to further prepare kids by talking about all the fun that the children will have and the exciting things that they will learn in school. Promoting schooling as a positive experience will give kids a sense of enthusiasm for learning, and a good attitude is the first step toward success in any endeavour.
School Supplies
Providing kids with a small stock of supplies to use at home for school projects and homework assignments is a good idea, saving time (and probably money!) and making it easier for children to complete their work in a timely fashion. Having a few basic reference books, such as a dictionary and thesaurus on hand can be helpful too, encouraging kids to work carefully and independently. Ideally, children should have a designated area to perform school related tasks, such as a desk in their bedroom, but that is not always feasible, especially in small flats. The kitchen table can work perfectly well for children, but they should be afforded a bit of quiet, uninterrupted time each day to study and work on classroom assignments.
Being Available
While parents should certainly expect their children to complete their schoolwork themselves, it can be beneficial for children if parents make themselves available when the children need assistance. Sometimes, kids need a bit more explanation of a new concept introduced in school before they fully understand it, so parents who let their children know that they are happy to help out can make a child's school experience more enjoyable and successful. Going over completed homework assignments can be beneficial, too, giving kids a chance to re-do any work that needs a bit of extra attention. Every now and then, kids will come across a subject that they find especially difficult. Arranging for a tutor, even on a short term basis, can make a great deal of difference to children who simply need a bit of extra help.
Setting the Standard
Parents who value learning will oftentimes raise children who feel the same. Parents can help their children to do well in school by showing them that learning is pleasurable and is a lifelong process. Enrolling in an occasional class, reading for pleasure, and completing their own tasks without complaint will show children that being responsible is simply part of living well.
Additionally, parents who exude an overall positive attitude about their own responsibilities show children that while all people have tasks to complete, doing them with care and enthusiasm is far better than simply giving the minimum effort.
You might also like...