Language Development Concerns for Kids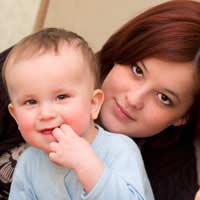 While most kids learn to talk and their speech develops pretty much on schedule there are occasionally signs that things are not progressing as they should. Language development, like all aspects of childhood growth and development, varies a bit from child to child, but there are broad guidelines that can help parents to differentiate between normal speech progression and signs of developmental delay.
General Guidelines
The ability to speak well and be understood is important for children as delays can inhibit their ability to communicate, making both learning and socialisation difficult. Parents are usually the best judges of whether or not their children are making continual progress and they should trust their instincts and seek the advice of a speech pathologist if they sense that their child is experiencing difficulties. While each child is a unique individual with a timetable of their own for language development, the following guidelines can help parents to determine if it is time to seek assistance for their children:
No making noises or cooing by three months of age
No babbling by the first birthday
No words by 18 months
Less than 50 percent of words spoken are understandable by strangers by the second birthday
Less than 90 percent of words spoken are understandable by strangers by the third birthday
Any difficulty with language at age four to five should be investigated.
Specific Concerns
Parents worry, that's just part of the job. Usually, their concerns are unwarranted, but sometimes, they are simply alert to real issues affecting their children. Lisping and stammering are often cited by parents as causes of worry:
Lisping: Lisping, pronouncing the "s" sound like a "th," is common among young children and is typically outgrown by age seven. Many speech therapists consider lisping to be a cosmetic issue, rather than a true language concern, and treat it as such. The following may help:
Discourage thumb sucking.
Promptly treat cold, allergy, or sinus problems as mouth breathing can contribute to lisping.
Offer the child a straw for their beverages, which helps to build lip strength. Blowing bubbles or playing a reed instrument offers the same benefit.
Ask child to practice making sounds with their teeth together, which helps remind them to keep their tongue behind their teeth.
Stammering:
Stammering, also called stuttering, occurs most often in children aged two to six, with the year between three and four being typical for first occurrences. While there are several schools of thought on the causes of stammering, speech-pathologists recommend treatment if the practice has continued for more than six months. Parents should:
Speak slowly and clearly to a child who stammers, which should encourage them to slow their speech a bit, too.
Listen attentively to a stammering child, allowing ample time for relaxed conversations.
Never criticise or tease a stammering child -- self-consciousness will only further the problem.
Avoid the temptation to complete a child's sentences for them. Allowing them to speak encourages practice.
Allow the stammering child to express their concerns and be sure to offer empathy. Stammering children often worry about the reaction of their peers, which may make them choose to be less verbal. Offer support and encouragement.
Language Issues as Symptoms
Sometimes, problems with speech or language delays may signal another problem. For instance, hearing loss or hearing impairment can be responsible for delays in speech development. Babies who fail to coo and babble may do so because they haven't been hearing the sounds around them. In other circumstances, children who begin to display normal language development stall out or even revert back to an earlier stage of development. Parents who notice such behaviour should seek professional guidance so that a cause can be determined and a treatment plan employed. Early intervention and treatment offers the best chance that children will experience a positive outcome.
You might also like...