Bringing Up a Bi-lingual Child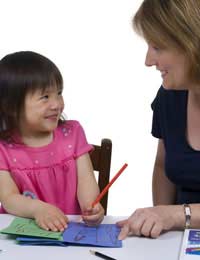 Many families around the world speak more than one language. If you're keen to bring your child up to be bi-lingual, then here are some tips and ideas for successfully achieving this.
Children that are brought up in bi-lingual households from a young age are certainly not at any learning disadvantage. Far from it, in fact, as research shows they tend to become adept at knowing and mastering both languages. This ability continues into adolescence and adulthood, where there built-in language learning affinity often results in a greater chance of skilfully learning even more languages.
Tips for a Successful Bi-lingual Household
It helps for any families who are planning on bringing up their children in a bi-lingual household to be realistic about their aims and consider the practical elements of doing so. Like any form of learning, there are highs and lows and not all children automatically pick up the ability to understand more than one language at a time.
In the first instance, when babies are beginning to learn to say their first words and communicate verbally, it's a good idea to concentrate on one language only – even though they'll probably have already been exposed to both languages within the home, in their early months and pre-birth.
Some people suggest that in two parent families, it can help a young child distinguish between different languages more effectively if each parent speaks their own language – e.g. mum speaks English and dad speaks French. That way some of the confusion of hearing different languages is reduced, as it becomes normal to hear dad speaking French.
Another useful tip that you may want to try as your child gets older is to speak one language at home – perhaps your native language – whilst focusing on the other language in all social, school and wider community settings.
Solutions For Common Bi-lingual Language Issues
Sometimes problems can arise for young children when different languages are frequently mixed or interchanged, leading to children mixing up their usage. This can affect their vocabulary and grammar and could lead to problems if the incorrect usage is continued.
It's helpful for parents to be aware of the issues that could occur and watch out for any problems or confusion. If you hear your child mixing up words or phrases in languages, especially on a regular basis, then you may need to intervene and take steps to sort this out and avoid further confusion.
For example, when you hear wrongly used words or phrases, you can jump in and use the correct wording. If there are certain situations when confusion tends to occur, such as social situations where both languages are used by different people, then it may be best to focus on speaking one language only, so it's easier for your child to follow.
It's also important to ensure they're able to speak and convey key phrases confidently in one language, so they can adequately express their needs and feelings.
The main thing to remember when bringing up a child in any bilingual household is to be consistent in your habits and speech. The more something seems natural and normal to a child, the easier it will become to learn and feel comfortable with the language.
You might also like...
i am doing a business report on makaton for my class and need as much information as possible. i work in a nursery who have just taken a makaton training course and i need to have a report about why makaton is needed and what benefits is there from the course and how it will help the nursery and make the business look better than the other competition. if you could email me back asap. thanks.
ccol1996
- 2-Apr-15 @ 12:24 PM