Dunstan Baby Language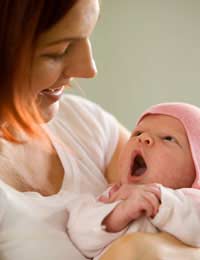 Dunstan Baby Language has recently become a topic of great controversy in the parenting and linguistic fields. Named after Priscilla Dunstan, a former musician and mezzo-soprano, the "language" divides the sounds (or sound reflexes as Dunstan call them) that babies make into five categories. Each category or sound is said to carry a specific message, meaning that parents should be able to interpret what their infants are trying to express. According to Dunstan these sound reflexes are the same for all babies between the ages of 0 - 3 months and across all geographic, cultural and linguistic boundaries. After 3 months these sound reflexes are replaced with babbling and later a full language system. Trained researchers, however, have criticised Dunstan Baby Language as being too informal and having no methodological basis.
Sound Reflexes
Dunstan Baby Language prescribes five sound reflexes that can be thought of as the "words" that infants use to express themselves. These sound reflexes include "neh" which signifies hunger, "owh" which signifies tiredness, "heh" which signifies pain or discomfort, "eairh" which signifies digestive discomfort and/or wind, and "eh" which signifies a need to burp. Dunstan maintains that these five sounds are innate in all babies and as such it does not matter from what culture, race or linguistic background children come - all will use these same sounds to signify the same meanings.
Communicating with Infants
According to Dunstan, use of this language system will allow parents to more efficiently recognise the needs of their infants which means that they can more quickly address these needs. This will lead to less crying and stress and more sleep for all involved. It may also help parents and infants bond better and establish workable routines. However, Dunstan Baby Language is not limited to parents. Siblings, grandparents, child care workers, babysitters and health care professionals can also use Dunstan Baby Language if they so choose.
Effective Communication
As helpful as Dunstan Baby Language may be, there are specific limitations to this form of communication. To begin with, the five "words" that parents listen for can only be trusted during the first three months of life. After this point babies will begin to babble and explore acquired language rendering their original sound reflexes less helpful. Also, the sound reflexes are most efficient in the "pre-cry" stage of a situation. That is, before a baby begins to cry hysterically. Sometimes babies will also use more than one "word" at a time. If this is the case then parents are advised to listen for the "word" repeated most often and to act on that need.
Further Information
For further information on Dunstan Baby Language, visit the official website at www.dunstanbaby.com. This site offers information on local UK stockists of Dunstan Baby Language products as well as offers email addresses for UK parents with questions or concerns. Alternatively, discuss this topic with a medical professional, child care expert or speech and language therapist. Not all professionals will be familiar with this "language" and those who are may not subscribe to it or believe that it actually works so be prepared for possibly heated debates when discussing it with others.
You might also like...
HI , Please send relevant information for me
HOJAT
- 23-Dec-11 @ 5:02 PM