Learning a Musical Instrument as a Child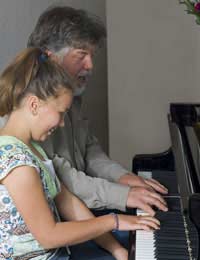 Learning to play a musical instrument is something many ages can enjoy and that includes children. If you're interested in encouraging your child to learn an instrument, or you think they're already showing signs of a musical ability, then here's the lowdown on learning a musical instrument as a child.
Children thrive on learning new skills and, if your child is showing an interest in music, then giving them the opportunity to have a go at learning a musical instrument can be a good way of extending their learning even more. Musical instrument classes and one-to-one tuition sessions are available for children of all ages, from under five year olds to teenagers and learning can start at any time.
For young children, their musical instrument ability can be strengthened by embarking on learning from a young age. This doesn't have to mean regular, hardcore, intensive lessons, but simply having a go and exploring music in informal classes. Many music teachers offer informal sessions for pre-school age children and above and they're a chance to show an interest in music and explore the different ways in which music can be made.
When taking part in such a class, your child may surprise you. It's not unusual for parents to have unintentional pre-conceived ideas about what instrument they'd like their child to play, but given the chance to explore different options, a child finds more interest in another instrument altogether.
What Musical Instruments Can Children Learn?
For under fives, one of the best wind instruments to start off learning is the descant recorder. It doesn't need a lot of puff to make a sound and involves relatively straightforward fingering to produce different notes. It can sound a bit shrill whilst children are getting to grips with it, but it's worth it in the end! When they've mastered the recorded, older children may use it as stepping-stone to move onto other wind instruments, such as the clarinet, flute or oboe.
Other options are the string instruments, such as the violin or guitar, keyboard instruments, such as the piano and organ and brass instruments, such as the trumpet, cornet or trombone.
What Are the Benefits of Learning a Musical Instrument?
Learning to play a musical instrument has a host of benefits for children. Researchers have found evidence that music lessons can enhance the sensitivity of the brain to speech sounds and help children improve their language skills, as well as their musical ability. Other research has found that it can boost children's memory abilities, improve their behaviour and intelligence as a whole.
It also helps children learn to read music scores, gain better motor skills (as they need to learn how to play instruments), gain a sense of belonging when they're in a group who all play music together and it helps boost self-confidence too.
As children get older, having music as a hobby gives another avenue for social interaction too. Many schools have orchestras and other local musical groups operate in many areas. It's especially good when children aren't particularly sporty or want to be involved in very active hobbies, as playing a musical instrument can give just as much satisfaction and sense of achievement, whether or not they choose to study for music exams.
You might also like...