The Young Child's Theory of Mind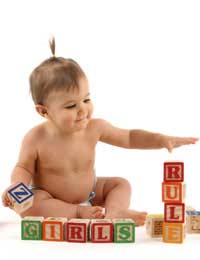 Theory of mind is a term used to describe a person's awareness of their own mental process and the mental processes of other people. While the ability to think about the nature of the human mind certainly increases with age and maturity even young children can begin to have an understanding of the emotions and perceptions that give humans their "human-ness."
Beginnings of Awareness
Before the age of two, children simply "are," without giving much thought to how and why they think and feel the way that they do. Some have theorised that children are closer to four before they have even the slightest of awareness, but parents and others who study and observe the actions of children would argue that younger kids have a rudimentary understanding of their own mental process as well as that of the other people in their lives.
Two and Three Year Olds
In the earliest stages of a child's development of theory of mind, they establish simple comprehension of three mental states:
Perception: Children understand that other people see what is in front of them, not necessarily being what the children themselves are seeing.
Wants: Two and three year old children understand that when someone wants something, they will make an effort to get it. Example: "I want a cookie!"

Emotions: Kids at this age have a fairly clear understanding of basic emotions and can differentiate between happiness and sadness in themselves and others. Discerning positive from negative emotional responses is an important development in theory of mind. Kids can alert others to the emotional state of family members or peers, possibly saying, "Mummy is sad."
Four and Five Year Olds
Four and five year old children come to understand that there are such things as false beliefs - that sometimes people can believe things that turn out to be misleading or untrue. In one study by Jenkins & Astington, children were shown a box from name brand bandages and asked the kids what was inside. They were surprised when they found pencils, rather than bandages inside the box. When they were asked what they thought a child who had never seen the box might think was in it, three year old kids answered, "pencils." The four and five year old children grinned and answered, "bandages!"
Six Year Olds and Beyond
While preschool children can understand various states of mind, older children gain a deeper comprehension of mental processes, especially in people beyond themselves. In middle childhood, kids begin to grasp that the mind actively interprets and retains knowledge. Later in childhood, kids gain even greater perspective, understanding that when different people witness the same event, their individual interpretations may vary, none of which are intentionally false, but are merely reflections of each person's unique viewpoint.
Deepening Their Understanding
While parents cannot necessarily make their children understand things that they are not yet developmentally ready for, there are things that parents can do to maximise their children's depth of understanding and compassion. Even very young children tend to empathise when they see another person who is sad or hurt, so parents should nurture their children's natural tendencies to care for others. Also, It's important for kids to be allowed and encouraged to express their emotions and to talk about the things that make them happy, sad, anxious, and proud. Raising kids who are not only comfortable with themselves, but who feel confident in their ability to understand and care about other people is a most worthy endeavour.
You might also like...