Educational Videos and Software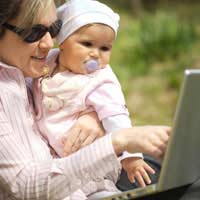 Today's kids are technologically advanced compared to those of a generation ago and are likely to spend far more time watching videos and playing computer games than their parents did. Modern parents often express worry as to the value of this pastime and hope that by purchasing videos and computer software labelled as "educational," they will be able to let their children play happily while helping them to develop intellectually.
Age Appropriateness
Younger and younger children are learning to play computer games, and educational videos are now marketed toward babies. Parents must keep a close watch on the materials that their children have access to, providing them with products that will challenge their minds without being so advanced as to cause frustration. Ideally, kids would play electronic games that are just a bit ahead of their current abilities, encouraging them to strive for academic advancements.
Virtual Reality vs. Actual Reality
While technology can now provide children with electronic playthings that are stimulating to their growing minds, parents must make the effort to see that their children's lives include an assortment of experiences, not all of which should come from watching videos or playing educational computer games. Kids need regular social interaction as well as time for physical activity, so seeking balance in their spare time endeavours should be a goal of all families.
Studies show that today's kids get far less exercise that the generations that came before them, which is a contributor to childhood obesity and ill health. And while good quality educational software may be able to encourage problem solving ability in kids, there is no substitute for real-life experiences in helping kids to further their social, verbal, and other communication and problem solving skills.
Videos for Children
A few short decades ago, television for children was limited to cartoons and a few family-friendly movies. Today, however, there is a huge market for videos aimed at children of all ages, babies included. While there is no question that babies and children seem to enjoy viewing these videos, researchers are concerned about the long term effects that video watching will have on babies' development. Some current studies seem to suggest that for children under two or three years old, watching videos, even educational ones, can have a detrimental effect. The incidence of ADD in children who watched three hours of television and/or videos daily as babies and toddlers, was dramatically higher by age seven than for non-television watching little ones. Educational videos for children older than three, when used in moderation and preferably with their parents or other carers in attendance to encourage active participation, are not thought to be harmful.
Deciding What to Buy
With the enormous quantity of educational videos and software available on the market today, it can be hard for parents to decide just what to buy. Considering manufacturer's recommendations regarding age can help, as can taking into consideration the interests of individual children. Younger children, especially, will benefit from material that is designed for use by parents and children together, while older kids can do well working independently.
Lessons in map reading, colours and shapes, vocabulary enrichment, music, and foreign language are all available to today's kids via educational videos and software. It's up to parents to decide which products that they would like to introduce to their children to help them on their way to becoming bright and knowledgeable kids.
You might also like...