Babies as Active Learners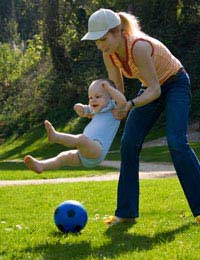 There was a time when babies were thought to be rather intellectually limited, but times have changed, and we now know that babies are most active learners. From their very first moments, they are processing assorted stimuli and building an ever-growing bank of knowledge.
First Teachers
Typically, parents are their babies very first teachers, providing little ones with enormous opportunities for learning in their first weeks, months, and years. In fact, many researchers believe that children learn more in their first three years of life than at any point after that. Every experience - every sight, sound, taste, touch, and smell is new for babies, so exposing them to a wide range of things that activate their minds and builds memories is a learning experience.
Parents need not concern themselves with the notion of specifically "teaching" their babies, but should realise that babies, being natural mimics, will learn from their parents and other carers simply by interacting in their daily lives. Talking to babies, even newborns, provides them with their very first lessons in language development as well as in socialisation.
Sensory Learning
Babies can be introduced to a variety of music styles, voices, aromas, visual experiences, textures, and as they move to solid foods, tastes. Making use of all of a baby's five senses is an easy way for parents to maximise the information that babies process and retain.
Sight:
From the very beginning, parents should make the effort to expose their babies to a variety of visual stimuli and should describe the colours, scenes, and faces that the baby sees.
Hearing: Reading to babies, as well as talking, singing and playing music are all important to cognitive development. Books can come to life for young children when parents read them in a lively fashion, using different voices for assorted storybook characters.
Taste: Once babies are able to consume more than breast milk or formula, parents should gradually introduce them to a wide assortment of healthy foods. Not only will this stimulate their minds, but it will also help to establish good eating habits.
Smell: From the lovely scent of baby lotion to the less pleasant aromas of a petting zoo, every new smell is a learning experience for babies.
Touch: Most parents wrap their newborns in the softest of blankets and as those babies grow, many will enjoy the feel of silky materials, furry animals, and slippery baby oil. Picture books that offer textured pages are good choices for babies.
Providing Opportunities for Learning
Using descriptive language is important when talking to babies and young children, increasing not only their vocabularies, but enhancing their understanding of the world around them.
Describing simple things as parents interact with their babies comes naturally to many, while others may feel a bit silly carrying on one-sided conversations with their children. It is through these types of communications, though, that babies learn about words and their meanings, as well as picking up clues about the tone, rhythm, and mood of language.
Everyday life is a learning experience, and parents can help to enhance their babies' cognitive development by presenting interesting and varied stimuli.
It needn't take an enormous amount of effort to provide babies with learning experiences. Something as simple as bath time can be "educational," offering stimulation for a variety of a baby's senses. As parents bathe their babies, they should talk about the warm water, the smell of the soap, how good it feels to get nice and clean, the sounds that the water makes as babies splash, and how wonderful it is to be wrapped in a fresh, warm towel. Sensory experiences offer babies ample input to stimulate their growing minds.
You might also like...