Parental Influences on Babies' Development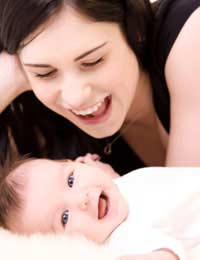 There is no doubt that the choices that parents make have a great impact on their children. Even before a child is born parents begin to make plans, choosing baby equipment, books, a layette, and they decorate a nursery into which they will welcome the newest member of their family. Some decisions that parents make have greater impact than others on their children's development, so it is important for parents to make well thought choices regarding the care of their little ones.
Getting a Healthy Start
One of the very first things that expectant parents can do to give their babies the best possible start is to secure proper prenatal care. This is beneficial not only to the mother, but to her developing baby, as well. Some conditions affecting the baby, when detected at prenatal check-ups, can be treated in utero, that is, before the baby is born. Even when this is not possible, knowing that a baby will be born with problems can give parents and medical staff notice so that they can be well prepared to meet the infant's immediate needs.
Regular, ongoing health care is important to the development of babies and children. Finding a health care provider with whom you have a good rapport is essential, since keeping children healthy is integral to their development. Keeping an eye out to be sure that babies and children achieve key developmental milestones is easiest with the help of professionals who are familiar with child development.
Keeping Informed
New parents, especially those who haven't spent a lot of time with children, may not know what to expect in terms of their child's development. Keeping informed about developmental milestones can help parents to understand what types of things that they should be doing to best promote healthy growth in their children. There are many wonderful books available with advice for new parents. While reading too many of them may simply cause confusion, choosing one or two well-written books on the subject of child development can provide parents with guidelines. Grandparents and other experienced parents can also offer a wealth of advice (sometimes even when you don't want them to!), as can the GP.
Encouraging Independence and Exploration
Many parents will tell you that their babies went from helpless newborns to active toddlers in what seemed like an instant. While it doesn't actually happen quite that quickly, babies do grow and develop at a rapid rate. Parents who encourage their baby's natural curiosity and allow space for safe exploration will help them to develop not only physically, but emotionally and socially as well. Confident parents who provide their babies with varied stimuli will find that their efforts are rewarded. Reading to babies, going on outings, and encouraging their socialisation by actively seeking playgroups are all things that can help babies to enjoy their growing worlds.
General Guidelines
It is important for parents to keep in mind that all babies develop at different rates. Even twins do not reach these milestone at the exact same age, so allowing for healthy variances will save parents a lot of unnecessary worry. The following are generalisations and will not apply to every child. Parents who have concerns about any possible developmental delays should consult with their GP.
Three Months
At this age, babies enjoy kicking their feet and are probably beginning to grasp toys. Parents can help by providing rattles and other colourful toys and by placing the baby (when well supervised) on their tummies for a bit every day to encourage development of the neck, back, and stomach muscles.
Six Months
By six months, babies tend to be very social creatures. Parents should talk to their babies as they go about their regular activities, and encourage their little one's coos and babbling by smiling and responding to their baby's efforts at communicative speech.
Nine Months
No longer content to sit and observe, nine month old babies can probably turn over from front to back and vice versa. Some babies will be crawling at this age, while others may be content to "scooch" about on their backsides. Providing a safe area for baby to explore will help them to develop their motor skills. Also, separation anxiety may crop up about now, so parents need to be ready to reassure their babies that they are nearby, tending to the baby's social and emotional development.
One Year
By their first birthdays, many babies will be pulling themselves to a standing position and walk along, holding on to furniture. Some will even be walking independently a bit, but their gate will likely be unsteady. Quite the little talkers, one year olds will babble on happily, and they may even have a few "real words" in their vocabularies.
You might also like...