Encourage Your Child's Physical Development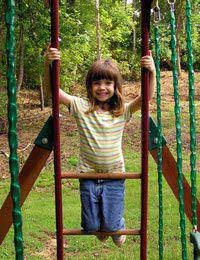 A child's physical development depends just as much on nurture as it does on nature. On the one hand a child is born with a genetic map that will guide such matters as height and general muscle development but on the other the child's environment will influence overall health and activity levels which contribute to physical development.
For parents, there is little that you can do to govern a child's genetics but much that you can do to encourage your child's physical development through proper nutrition and appropriate physical activity.
Encouraging Proper Nutrition
Children need to consume a variety of vitamins and minerals to keep their bodies in tip top shape, as well as an appropriate number of calories to fuel the many activities in their busy lives. While your local GP will best be able to offer you advice on a proper diet for your child, many parents live by the general guideline of feeding their children a variety of whole foods. This type of diet would include striving for five fruits and vegetables per day, including a variety of dairy and whole grains, eating appropriate servings of fish, seafood, chicken and meats as well as consuming six to eight glasses of water per day (or more for especially active individuals).
In order to make room for all of this nutritious food, children should not be served pre-packaged foods, foods high in sugar, salt or saturated fats or fizzy drinks. A balanced diet will help children grow strong bones, fuel strong muscles and have both the energy and the drive to engage in activities that will further encourage their physical development.
Encouraging Appropriate Physical Activity
In order for children to further their physical development, they must practice the many skills that will ultimate lead to gross motor control, fine motor control and overall balance and coordination. This may seem like a lot to learn, but almost every physical activity in which they participate will offer children the chance to further these skills.
For children to master their gross motor skills, they should be encouraged to engage in activities that offer them the chance to walk, run, jump, and throw – outdoor activities are particularly suited to these skills. To master their fine motor skills, children should be encouraged to participate in stereotypical indoor activities such as cutting paper, writing, drawing, zipping and buttoning.
Coordination and balance can be practiced in most children's activities, so encouraging your children to participate in a wide and varied spectrum of activities each day will give them the best chance to round off all of their skills. Just be sure to encourage your children to engage in activities suited to their levels of ability or tears and frustration will likely result.
Encouraging your child's physical development is actually a two-pronged process: providing proper nutrition and offering appropriate and consistent physical activity. No matter what their genetic plans hold, children who are fed a nutritious diet will have all of the vitamins and minerals that they need to fully support their physical development and children who are encouraged to participate in physical activity will have the chance to practice their muscle control and coordination. Though such support can not totally influence a child's physical development, it can never hurt it either!
You might also like...