When Should You Worry About Your Child's Development?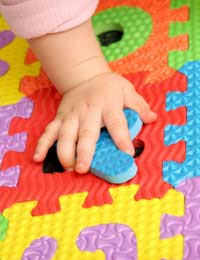 As a parent, it's only natural to worry about your child. One of the main areas of concern for parents, especially during the early years, is whether or not your child is developing physically, mentally, emotionally and socially as they 'should' do. But when should, or shouldn't, you worry about your child's development?
As children grow and develop, they gradually gain the ability to tackle new tasks, learn new skills and achieve new experiences. Being a parent, you'll probably feel proud on a regular basis as your child scales the next mountain and conquers new challenges – and good feelings of excitement and achievement are likely to be reflected in your child's reaction too.
It's definitely good to encourage, praise and let your child know you're proud of them each time they achieve something new. If you're so positive and thrilled when your child achieves things, when do parents start to worry?
Parents Comparing Children's Development
One of the key ways in which doubt can creep in is when parents compare what their children can do. If you've ever been to a baby and toddler group, playgroup, stood outside a school or simply socialised with friends who are parents, you can't help but notice occasions when parents – sometimes unintentionally – compare their child's skills, or boast about 'what little Johnny can do.'
This comparison can throw out feelings of insecurity in parents, especially if your darling son or daughter hasn't yet learnt to talk, when another child the same age is apparently able to talk in sentences already.
It's hard work for parents to ignore the comparisons that others make, especially from those with a tendency to give a minute breakdown of every move or word that is uttered from their dearly beloved child, but it does help if you can learn to stand back from the chatter and not let it cause you to worry.
Set Developmental Stages
Another way that parents can become worried about what their son or daughter can't do is through reading information about developmental stages. Stages of development are used as a guideline to what children can typically do at certain ages and stages. Although definitely useful as a guideline, they shouldn't be accepted in stone as gospel.
Realistically, every child is different and, just because your child isn't yet talking as much as a similar aged child, it doesn't mean he has a problem. It could just be that he's learning different skills and will soon catch up with his peers. It's of course very hard for parents not too worry!
When Should You Worry?
A lot of the time, parents are worrying unnecessarily about their children. But there are times when worry may be justified.
Parental gut feelings are important and shouldn't be ignored if you feel that something is wrong. Some children are slower to develop than others, but if your child seems to continually be lagging behind his peers, or is having particular problems in certain areas, then it's always worth expressing your concerns to a health practitioner.
Sometimes they well be unfounded and they'll be nothing to worry about. But if they notice problems too, it can make a difference to get a headstart with any help they need.
Your GP or health visitor is there to help you with any worries or concerns you have, so don't be afraid, or embarrassed, to approach them with queries.
You might also like...