Baby Talk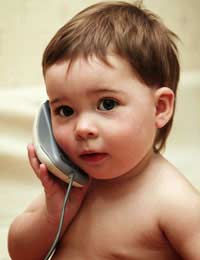 Every new parent looks toward the day when their precious little one says their very first word. While it can take a while until babies develop language skills that allow them to hold full conversations babies actually begin to communicate verbally when they are very young. Many parents will tell you that they know what is needed, just by the sound of their baby's cries. The difference between a "hungry cry" and a "tired cry" is well understood by seasoned parents, and responding correctly to an infant's first verbal requests is in a sense, listening to their first words.
Baby Language
While some parents are naturally adept as deciphering the meaning of their baby's sounds, others find themselves frustrated by their inability to understand what their babies are trying to tell them. One mum, Priscilla Dunstan, found that by paying close attention to the sounds that her infant son was making, she could distinguish five specific "words" that each indicated a specific need. After observing other babies, she realised that they used those same sounds, with the same meanings. In an effort to help other parents to understand their baby's first attempts at verbal communication, Dunstan produced a set of DVD's outlining her findings.
What to Expect (and when)
Every baby is different and will develop language skills at their own rate. While some are speaking in full sentences by 18 months, others of that age are nowhere near ready. General guidelines can be minded by parents, but care should be taken not to worry excessively if babies develop on a slightly different timetable.
Birth to 3 Months
Very young babies cry in order to communicate their needs. While some feel that the cries are indistinct, others believe that infants make specific sounds for varying needs (i.e. Priscilla Dunstan). In any case, babies do communicate their needs verbally and wise parents are quick to react, further encouraging their babies to "talk."
4 to 6 Months
At about this time, babies start to babble, showing a special fondness for repetitive sound. Often, they are a combination of consonants and vowels, such as "baba" or "gaga." Occasionally, babies of this age will choose "mama" and/or "dada," sure to delight their proud parents, but experts believe that babies are not yet associating words with meanings, so it is highly unlikely that they are actually calling their parents by name!
7 to 12 Months
During the second half of a baby's first year, his talk will begin to have rhythm and tone, much like that of the adults that he hears. While the words are not likely to make sense yet, a baby's language now starts to feel like real talking.
13 to 18 Months
Once they are armed with a few real words, babies begin to understand their ability to communicate their needs through language, leading to even greater attempts. Parents should try to identify things and people to their babies, offering them opportunities to increase their vocabularies.
19 to 24 Months
While many toddlers regularly use only 50-75 words, they have the capability to understand many more. New words are learned on a daily basis, and parents often realise that their little ones repeat the words that they hear mum and dad using (uh-oh!). Simple two-word sentences begin to emerge ("Hungry now.") and by the two year mark, sentences of three words are common. Now that they are opinionated and verbally capable human beings, two-year-olds often amaze their parents at just how well they can get their points across!
25 to 36 Months
The year between the second and third birthdays shows huge leaps in a child's ability to communicate verbally. Sentence structure will improve, as will the use of appropriate pronouns and tense. Children now have an extensive enough vocabulary to participate in conversation, talking about their weekend or recalling the details of a family outing.
How Parents Can Help
While there is no magic formula that will guarantee a child's ability to talk early, there are things that parents and other caregivers can do in order to encourage babies to verbalise their needs. Talking to babies is important, preferably without resorting to "baby talk." Babies learn to talk from listening to others, so adults who are articulate in their speech will help their children to communicate effectively, too. It is especially helpful to talk in a friendly, conversational manner -- pointing out things that you see and describing activities as you go about your day.
Reading to babies and young children is another way to encourage speech. Choosing a variety of books, some with rhyme, others told in storybook fashion, will help to not only introduce new words, but will expose babies to the rhythm and flow of language.
Finally, parents who actively engage children in conversation will be likely to have kids who love to talk. It's important to show a genuine interest in babies' attempts at language, from their first coos to the stories that they tell you about the fun they had at the nursery. After all, babies aren't that much different from the rest of us; it's far more fun to talk to someone who actually has an interest in what you have to say!
You might also like...