Babies and Attention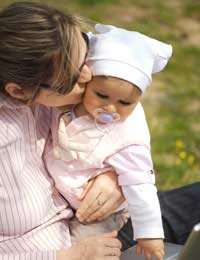 Babies have pretty simple needs. They require nutritionally complete feedings, lots of sleep, a safe and loving home, and plenty of attention. Babies (as well as the rest of us!) thrive when they have the attention of focused, attentive caregivers. Research even shows that babies who do not receive enough cuddling and mental stimulation may not grow and develop to their highest potential.
Off to a Good Start
During a baby's first few months, they are learning about the world in which they live. Parents who are quick to meet their babies' needs, coming to them when they cry, rather than letting them "cry it out" help to instil the sense that the world is a safe and welcoming place, vital for the child's healthy development. Many well respected experts on child development cite the need for babies to get a good start in life with caring, nurturing parents.
Erik Erikson: Erikson's Theory of Psychosocial Development stresses the importance of consistent and loving care for babies during their first year. He feels that if a sense of safety and security are not given to babies, they may grow up being anxious or insecure.
Margaret Mahler: Focusing largely on the mother/child relationship, Mahler emphasised the importance of loving, attentive care to help babies build a base of security and confidence. She stressed that not only should mothers be completely hands-on in the beginning, but that they need to assure their babies that they are readily available as the little ones begin to gain a sense of independence.
Making Time and Forming Bonds
Modern parents are busy and it can be hard to find enough hours in the day to accomplish all of the things on their to-do lists, but prioritising the time that they spend with their babies to the top of the list is important for the child's healthy growth and development. Parents who make the time to talk and read to their babies give them an advantage in both social and cognitive development compared to babies who receive less attention. Additionally, the bond that is formed between parents and their babies helps to establish a loving relationship that will be of importance to both generations all throughout their lives.
Disconnected
As clear as it is that babies benefit from focused interaction with their parents and other family members, studies now indicate that babies who are placed in front of the television rather than receiving direct attention may be at a higher risk for developing ADD. Exposing babies' developing brains to the over-stimulation that is typical of television shows and videos can cause permanent changes in the baby's neural pathways. The damage usually becomes apparent at about age seven, when school aged kids have a difficult time paying attention in class.
One study indicated that for every hour of television that babies and toddlers watch daily up until the age of three, their chance of developing ADD increases by 10%. This includes programming that is geared toward babies and young children. Television viewing is a passive experience, sorely lacking in sensory stimulation. Children are far better off playing with toys, listening to music, and exploring their environment in a hands-on way. While all parents may be tempted to use the television or a baby-oriented video as a way to buy themselves a bit of peace and quiet every now an then, research indicates that children do best when they have no exposure to such media during their first two years of life.
You might also like...