What Causes Stammering in Children?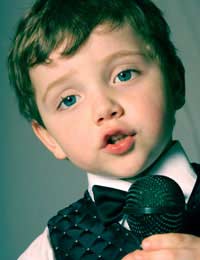 Stammering, or stuttering as it's also known, is a term used to describe speech that is interrupted by stoppages in fluency. It can affect both adults and children, but what actually causes stammering in children?
Not being able to get your words out easily can cause embarrassment and awkwardness for people. For stammerers, the usual flow of speech is interrupted by stops. Sometimes some sounds, syllables or words may get stuck and be repeated, words may appear to get stretched out or there may be temporary moments of silence as they try to finish their sentence.
The full causes of stammering have interested researchers for many years. A single, exact cause has not yet been identified, but research suggests that a combination of genetics, biological makeup and social factors are involved. A child born into a family where there's a family history of stammering, or another family member is affected, appears to have a genetic risk of developing stammering.
Some research has looked at brain differences between people who stammer and those who don't. Brain imaging techniques, for example, have revealed that there are differences in the brain activity of these two groups of people. Stammering does tend to be more common in boys than girls – about four times more common, in fact – and it's an issue that affects people all over the world, in different social groups and cultures.
Stammering isn't something that is caused by parents, so there's no point in parents blaming themselves for its occurrences. Neither does it mean that someone is less intelligent than other people, or have any kind of mental problem, it's simply that the expression of their thoughts is slower and they're not able to get their words out at the speed regarded as normal.
Stammering in Children
If your child stammers, don't panic. About five per cent of all children under the age of five years old are prone to going through a period of stammering during the early years of speech development. In fact, twice as many boys as girls are affected. In many cases, the stammering eases off over time and their language skills develop perfectly.
In some instances, the stammering can continue into school age and on into adulthood (1% of all adults in the UK stammer), but there are a variety of techniques that can be used to help manage the stammering and make speech less of a worry.
It's also normal for children aged between two and five years old to repeat phrases or words, or hesitate when they're speaking. In most instances, it's just a normal part of learning to talk for children to hesitate or repeat words such as 'um' or 'er' when they're talking.
If you're concerned about the development of your child's speech, and are worried that there may be an underlying stuttering problem, then consult a speech and language therapist for advice. They will be able to assess your child, put your mind at rest or identify any problems, and help create a plan of action if necessary.
You might also like...