Vygotsky & Socio-Cultural Theory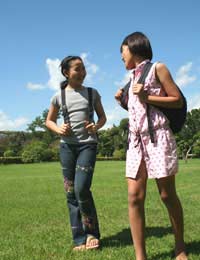 Vygotsky's socio-cultural theory is widely cited by educators even today, as they formulate plans on how to get the most from students, challenging them to reach their highest potential. Vygoysky's belief that social interaction leads not only to increased levels of knowledge, but that it actually changes a child's thoughts and behaviours. Since it is the goal of parents and educators alike to help children become high achievers, taking a look at the work of Vygotsky and examining his conclusions seems wise.
Cultural Influences
The belief that social exposure to various cultures expands a child's pool of knowledge seems reasonable. The more experiences that a child has, the richer their world becomes. Developmental advancements, dependent upon the people and the cultural tools provided to the child, will help him to form his perceptions of the world. Vygotsky's theory suggests that there are three ways in which learning is passed along to an individual. Imitative learning is the first, where the child simply copies another person. Second is instructed learning, where a child recalls direction given by a teacher and then puts it into play, and the third is collaborative learning. Collaborative learning happens when a peer group cooperates to learn or achieve a specific goal while working to understand one another.
Elements of The Socio-Cultural Theory
Children, especially toddlers and preschoolers, often speak aloud to themselves as they are trying to understand something. This self-talk helps them to work things out in their own minds. Vygotsky believed that this "private speech" lessens with age until it becomes all but non-existent. It's not that older children (and adults) don't have the need to think things through, but in Vygotsky's observation, he felt that they do this on an internal level -- thinking, but not necessarily voicing their thought processes.
Vygotsky believed that learning begins at birth and continues throughout all of life. One of the most important ways that advancements in development are achieved is through what Vygotsky called "the zone of proximal development." Vygotsky described ZPD as "...the distance between the actual development level as determined by independent problem solving and the level of potential development as determined through problem solving under adult guidance or in collaboration with more capable peers." Teachers and other educators who wish to utilise the benefits of ZPD often employ one of two strategies:
Scaffolding: Scaffolding requires that an instructor shows by example how to solve a problem, while controlling the learning environment so that students can take things step by step, expanding their base of knowledge without excessive frustration.
Reciprocal Teaching: A highly successful teaching method, reciprocal teaching provides an environment of open dialogue between student and teacher which goes beyond a simple question and answer session. By alternating turns leading discussions, students soon find themselves capable of assuming a leadership and instructional role.
Utilising Vygotsky's Theory in Practice
Clearly, in order to achieve the highest level of development possible, believers in Vygotsky's theories would advise that parents expose their children to a variety of social situations, since each interaction is considered a learning experience. It is especially important to introduce children to people and ideas that operate above their current knowledge level, giving them access to new ideas and concepts. Guiding children to look for answers by imitating what they see in others, listening to instruction and working as part of a group all provide opportunities for them to expand their current base of knowledge. And if Vygotsky is correct and development continues until death, parents themselves may wish to look for opportunities to keep on learning and growing.
What Next?
Want to find out more about the classic theories on kids development? Then take a look through our articles on
Albert Bandura's Social Cognitive Theory
and
Freud's Theory of Developmental Phases
.
You might also like...
Does thi theory mean children learn language and communication through interaction with peers, family etc only. Someone help i think im missing the point because my assumpition was they learn even through social media and etc
Noe
- 24-Oct-17 @ 3:49 PM
This article was excellant! It makes me think of my son when he was growing up, and the kids I work with today.
Patty
- 4-Aug-13 @ 5:49 PM
which theory can be used to study perception of teachers on their training and why is it important to study the perceptions that teachers have?
zacobe
- 2-Jul-13 @ 2:32 PM
Jimson, regarding your "question" and subsequent invitation to discuss. I might have been inclined so to do, had your statement actually been phrased as a question, correct grammar used and your spelling had been correct!! This is a wonderful website with a veritable treasure trove of information on child development. The theories are explained fully but in a way in which anyone can understand them. Thank you for making this information available to all.
chrisj30
- 13-May-12 @ 9:07 AM
Its a short and simple way of explaining vygotsky's theory ,rather than trying to understand the complex writings of others
kamal
- 12-May-12 @ 11:50 AM
My question is that youths are the nervous system of every society and they are leaders of tomorow.Discuss
Jimson
- 5-Apr-12 @ 7:30 PM
Having missed some important sessions on Theorists at College, I have found the articles on 'Classic Theories' essential reading enabling me to catch up! Thank you.
Blu63
- 29-Dec-11 @ 2:38 PM
I also spent numerous weeks trying to wrap my head around everything and was going absolutely no where! Thank you for this simple explanation!
shan92
- 2-Nov-11 @ 4:42 AM
This article is excellent! I studied this at University and it took me 13 weeks to try and make sense of it. This article sums it up perfectly and makes it easy to understand!Thanks!
chinny159
- 31-May-11 @ 6:09 AM