Separation Anxiety and Children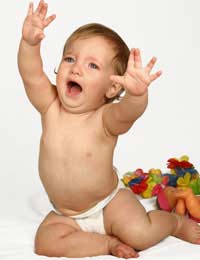 Separation anxiety occurs when a child fears being left alone without a loved one. Sometimes children believe that their loved one will never return but other times they are uncomfortable in their surroundings and don't want to be left by themselves to cope – even for a short amount of time. Separation anxiety can be devastating for the parents who not only must live with it, but also feel that they had a hand in causing it. For children, separation anxiety can be emotionally exhausting. While there may not be much that parents can do to erase separation anxiety altogether, there are some methods available to lessen the impact of their departure on their children.
Acknowledge Separation Anxiety
Children often will not realise why they are feeling so anxious when their loved ones are set to leave them. Logically they may understand that their parents are simply going out to dinner and that they will be staying with their siblings/aunts and uncles/grandparents, but illogical emotions may be telling them that they will never see their loved ones again. Talking with your child about his or her feelings, both at random times disconnected to a separation and just before a separation will occur, may help them work through their thoughts and understand that they have little to fear.
Establish the Pattern
Though it may seem illogical, separation anxiety often follows a predictable pattern. Watch your child carefully for signs that (s)he may be beginning to feel anxious. Take note of:
Where you both are.
Who you are both with.
What kind of behaviours your child is beginning to show.
What kind of thoughts your child is beginning to verbalise.
How much time is left before you are set to leave your child.
Particular people or activities that seem to distract your child from your departure.
Particular objects that seem to calm your child from negative emotions.
Lessen the Impact of Leaving
Though you may not be able to totally conquer your child's separation anxiety, there are a few things that you can do to limit it when it does occur. Before you leave a screaming child in your wake, try to:
Calmly tell him/her where you are going and when you will be back.
Don't break this promise or the next time you leave the anxiety could be even worse!
Stay with him/her for a little while so that they do not feel vulnerable in a new setting.
Leave a favourite toy or trusted object with your child to comfort them.
Make sure that (s)he is not hungry or tired when you leave.
Avoid leaving a sick child if at all possible.
Avoid sneaking out without saying goodbye.
Avoid bribing your child to stop crying or to "be good". Not only does this trivialise his/her feelings, but it sets a bad example for the next time you go out.
While it can be tough to leave a child who is suffering from separation anxiety, try to remember that it is also tough for the child who is experiencing it. Do not gloss over your child's feelings, but instead try to understand them and do what is in your power to calm them. Separation anxiety is usually overcome fairly early in life, but if you are worried about your child's emotions visit a GP or childcare expert for further information.
You might also like...