Does Birth Order Really Effect a Child's Development?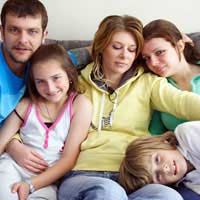 Can the order in which you were born really affect how you turn out as an adult? Common knowledge seems to suggest that an older, middle and younger child will all have personality traits determined in part by their order of birth. However, there are many exceptions to the rule. Just as there are many younger siblings who grow up to be successful leaders and confident human beings, so some older siblings are later terrorised by their younger brothers and sisters.
The theory that birth order can affect a child's personality was first proposed by an Austrian social scientist called Alfred Adler. A strong disciple of Freud, he believed that each child's place in the family could affect everything from future career paths to relationships.
The Oldest Child
Adler thought that this group were most likely to take after their parents and so seek out the company of adults rather than mingle with other children. Since they have younger siblings to order around they learn leadership skills from a very young age (although they like things done their own way - a trait that can carry through to adulthood if unchecked!). On the flip-side, older kids can feel a real pressure to succeed in life and be more likely to worry about the future when in private.
The Middle Child
Adler believed that middle children were born diplomats who had the necessary charm and tact to bring other people (usually squabbling siblings!) together. Neither the first-born nor the youngest, they have to find novel ways to get their parents attention. Often this can mean rebelling when they turn into teenagers.
The Youngest Child
Pampered by parents and used to getting their own way, younger children have a tough time being taken seriously by parents and siblings, since they're constantly seen as the baby of the family. This makes them natural risk-takers likely to choose an adult career their parents wouldn't expect.
Though anyone with young children will see these characteristics in their children, in truth the differences might be down to the way that the kids are brought up rather than their birth order. For example, research reveals that older children tend to have higher IQs than their brothers and sisters. But this doesn't mean that they're naturally more clever. Older children probably had lots of one-to-one attention from parents which developed their learning skills. They also might have had younger brothers or sisters to teach. Therefore they had more opportunity to learn about the value of gaining knowledge.
Treating Children as Equals
If you're worried about how these traits can affect your children, then remember that it pays to see each child as an individual rather than just 'the oldest/middle/younger' child. Recognise your children's individuality and you can help them see themselves as individuals. Try to be fair to each of them, judging them by their own wants, needs and ambitions, rather than just treating them all 'the same'. This will help them discover their own personalities, rather than simply seeing themselves defined by their birth order.
You might also like...