Attachment Stages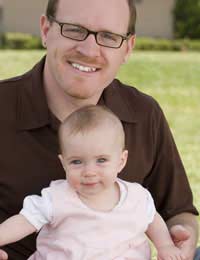 Attachment is often defined as the affective or emotional bond that develops between an infant and his or her primary caregiver. Very often theorists prefer to think of this caregiver as the biological mother though this does not have to be the case. Fathers, adoptive parents and guardians can all take the place of a primary caregiver in the first few months of an infant's life. As explored by doctor and child development theorist T. Berry Brazelton, the attachment between an infant and primary caregiver usually progresses in four general stages: homeo-static control, prolonging of attention and interaction, testing limits and the emergence of autonomy.
Homeo-Static Control
During the homeo-static control stage of attachment, infants learn to control the stimuli with which they are constantly bombarded. This normally occurs in the first seven to ten days of an infant's life. During this time, the infant learns to both shut out and receive stimulation, and thus takes the first steps towards interactions and relationships with others.
Prolonging of Attention
In the second through eighth weeks of their lives, infants begin to prolong their interactions with the adults who are important in their lives – most noticeably their primary caregivers. Not only do infants begin to recognise cues that adults are showing them attention, but they begin to understand that they can use their own cues (smiling, babbling, holding, etc.) to prolong an adult's attention in them.
Testing Limits
During the third and fourth months of their lives, after they have figured out how to prolong an adult's attention, babies will then test the limits of this attention. Often the baby and an adult will play small games such as smiling to each other or "chatting" with each other, but these brief games will have a very important basis. Through these interactions both the baby and adult will be testing the other to see how long/far they can hold the other's attention, as well as if there is a behaviour that will greatly increase or decrease this attention.
Emergence of Autonomy
In the fourth and fifth months of their lives, babies will often realise that not only can they begin games and therefore exert a certain degree of control over others, but that they can also reach out for and take objects, thus exerting more control over their immediate environments. Babies in this stage have begun to realise that they can also attract adults' attention by crying, "chatting" or smiling, again influencing others around them. Parents and caregivers often realise this time that their babies may be doing things strictly to gain attention now, and not because they have an immediate need that must be addressed.
The stages of attachment that a baby works through are periods of time in which they begin to realise that they are individuals, and that as individuals they can exert a certain level of influence over others and their own environment. The first four months of a baby's life is a crucial time for developing an attachment to a primary caregiver, and research has shown that babies who form attachments are more likely to thrive than those who do not. Rather than attempting to control their babies, parents must learn to allow their babies to express his or her needs and desires and ultimately gain the autonomy toward which they strive.
You might also like...