Reinforcing Good Behaviour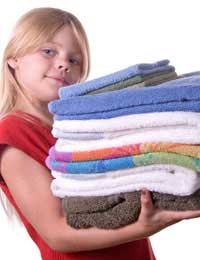 Reinforcing good behaviour also known as positive reinforcement, works as it serves the dual purpose of eliminating bad behaviours and giving children the confidence to routinely choose good behaviours. In reinforcing a child's good decision, parents are supporting this choice and encouraging similar choices in the future. In order to more effectively reinforce children's good behaviour, parents can clearly state their household rules, discuss why a bad behaviour was an unfortunate choice, verbally reinforce good behaviours and even occasionally reward good behaviour with something more.
State the Household Rules
It really isn't fair to hold children accountable for breaking rules that they never knew existed, so the first step in reinforcing good behaviour is for parents lay out exactly what they feel is acceptable and unacceptable. General rules are great for starting a family discussion, so many parents institute guidelines such as:
Respecting all members of the family.
Never yelling inside the house.
Never throwing, kicking or hitting anything.
Coming to dinner when asked.
Going to bed when asked.
Picking up all toys when play time is over.
Sharing toys and games with others.
Helping family and friends when they need it.
Discuss Bad Behaviour
Once they know the rules children should be expected to follow them. In a perfect world children would never deviate from the household guidelines, but in reality children are likely to break many rules, many times per day. This can be frustrating, but as long as each instance is turned into a learning experience than nothing has been wasted. Discussing bad behaviour with children will help them work through what they did that was inappropriate, why it was inappropriate and what a better decision might have been. A discussion can also help children develop strategies for avoiding similar situations and decisions in the future and practice their decision making with a trusted advisor. Obviously having a full blown discussion after every instance of bad behaviour would be unfeasible, so saving up a few examples may be a more workable alternative.
Verbally Reinforce Good Behaviour
Verbal reinforcement is an ideal support for children – it costs nothing, takes little effort and is never met with negativity. Even a simple "Well done!" or "You are sharing your toys very nicely!" can go a long way towards informing children that their behaviour has been noticed and that they have been making the right decisions. For some problem behaviours words may not be enough and parents may decide to reward their children for good behaviour. Presenting children with options such as extra reading time before bed or the choice of a favourite activity in the park after they have made a particularly good decision will help remind them of the behaviours that their parents consider important and appropriate.
Reinforcing good behaviours with words or rewards is an excellent way to remind children of the decisions that their parents consider worthy and important. Rather than letting children flail about on their own, parents should discuss their expectations and rules as well as the decisions that children have made which has result in bad behaviour. Telling their children when they have made a good decision, and sometimes reinforcing these words with a small reward, will also reinforce the good behaviours and help children avoid the bad.
You might also like...