Children and Their Height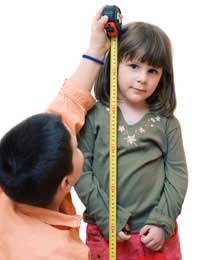 A child's overall height depends upon a number of factors. Genetics and sex are the major influences on the height that a child will ultimately attain but a child's overall nutrition, the amount of exercise taken and whether or not (s)he has any sort of medical condition will also contribute to the height at which (s)he ultimately stops growing. While many height calculators do exist, there is nothing that can accurately predict what a child's height will be when fully grown. Any concerns about a particular child's height, weight or general development should be discussed with his/her GP.
Genetics
When conceived, a baby receives genetic material from both its mother and its father. While children may end up "taking after" one parent in terms of a particular feature such as height, biologically its genetics is a mixture from both. Regardless of what this genetic code has determined for the child, it is set before the child is even born. In general, most healthy children then grow to a height in between their mother's and father's adult heights.
Sex
Sex has an influence on a child's height in that females are usually shorter than males when fully grown. Throughout childhood females may grow faster than males of a similar age, and indeed some adult women do grow taller than some men, but in general the majority of women remain shorter than the majority of men. Some parents look towards relatives of the same sex for indications of what their child's ultimate height might be.
Nutrition
While good nutrition will not help a child grow taller than his/her genetics have determined, poor nutrition can keep him/her from attaining a height to which (s)he might otherwise have grown. A diet rich in vitamins and minerals and low in excess sugar, salt and saturated fats will help ensure that children have all of the nutrients they need to develop strong muscles and bones and maintain a healthy weight at every height.
Exercise Taken
Healthy children tend to have natural energy, and daily exercise helps them burn it off as well as strengthen their muscles. Regular exercise will also help children maintain a healthy weight at every height and keep their bones and joints growing and working properly. Without regular exercise children's general health is put at risk and there is always the possibility that it could affect their height.
Medical Conditions
Medical conditions which could affect a child's height should be discussed with and diagnosed by the child's GP. Some conditions that affect height include Turner Syndrome (a genetic disorder), diseases of the endocrine system (in which there is too much or too little of particular hormones present), Dwarfism, Gigantism, and Failure to Thrive. While Failure to Thrive is not actually a disorder in and of itself, it is often a symptom of an underlying condition. Failure to Thrive affects infants who either do not gain, or actually lose, weight and do not grow in their first few days.
When children are born, both their genetic makeup and sex will influence the height which they will ultimately achieve as an adult. During childhood, a child's nutrition, exercise schedule and possible medical conditions can all influence this height as well. Parents of children concerned about their child's height should consult their GP for further information on their specific situations.
You might also like...
"In general, most healthy children then grow to a height in between their mother's and father's adult heights. " Not correct. Think about it... if that was the case, then any son would generally be taller than his mother, BUT ALSO shorter than his father.
mikeb
- 4-Jul-12 @ 6:29 PM