What Signs Could Indicate a Physical Development Problem?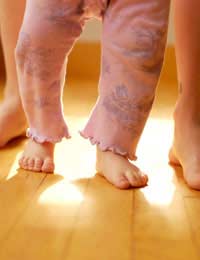 As a parent, it's easy to worry about your child and their development. In many cases, parental concerns are merely unfounded worries and children are developing fine. For those that can't stop worrying, we take a look at some of the possible signs that could indicate a physical development in children.
It's only natural for parents to worry about their child, not least that they're developing okay. Parents aren't helped by the fact that there's an awful lot of material online on chat forums, and passed on from peers, about what is regarded as being acceptable for children of various ages to do. If your child hasn't yet mastered the stage, and other children of the same age have, it's easy to worry that your child is a slow developer or that something may be wrong.
All children grow and develop at different paces, but there are some potential signs to look out for at different ages that could possibly indicate a physical development problem. If you're worried at any time about the development of your baby or child, then always speak to a professional about your concerns.
In many cases, things will probably turn out to be fine, but if there is a problem, the earlier it can be detected, the earlier your child can get any help they may need.
Signs of a Physical Development Problem in Babies
Some of the possible signs of development problems in babies from 0-12 months of age include:
Your baby is unable to hold his head up by the age of three to four months.
Your baby is still not able to sit that well on his own by the age of 10 months.
Your baby isn't able to grasp hold of your fingers, or objects such as a rattle.
Your baby doesn't move much.
Your baby seems unable to use either both their arms or their legs.
Your baby interested at all interested in anything going on around him.
Your baby doesn't look at you.
Your baby is unable to bear his own weight by the time he's one year old.
Signs of a Physical Development Problem in Toddlers
Here are some of possible signs of a physical development problem in toddlers:
Your toddler still isn't able to walk or stand.
Your toddler is unable to kick or throw a ball.
Your toddler isn't interested in having a go at feeding themselves.
Your toddler is unable to hold a crayon or make any attempt to make a mark, draw or scribble.
Your child doesn't engage in playing with you, or with other children.
It can't be emphasised enough that these are only rough guidelines and that all children develop at their own pace. Being slow to develop any of these skills is by no means a definite sign that they could have problems.
The adage about parents knowing their children best is often very true and it can be a parental instinct that highlights developmental problems to a professional. So trust your instinct and, if you feel there is a possible problem, raise your concerns with a doctor or health visitor.
You might also like...