What do Babies See?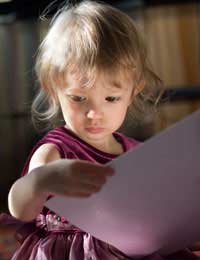 Of all of the sensory systems the visual system is the least developed at birth. This means that sight is often the weakest of the senses when a baby is born. In fact, newborn babies rely most heavily on the auditory system so their first introductions to the world are through what they hear and not what they see. In the first year, however, the visual system matures and develops at a rapid rate, so babies move towards seeing patterns and understanding/recognising objects. For parents, this visual development is often highly enjoyable as babies routinely seek to share their discoveries with others who will delight in their new finds.
Sight at Birth
At birth, newborn infants have a natural preference for what is familiar. Human faces are of interest, though most infants will only focus on them briefly and fleetingly, and often on only one feature at a time. Infants can see movement, and they can also see colours except usually for blue. In fact, infants respond so well to colour that there may be times that it is the colour of an object that is the focus of an infant's sight and the object itself is not actually recognised. However, visual acuity at birth is very poor, so babies can only make out large, distinct sights and the rest remains a blur.
Sight by Two Months
An infant's visual system develops in the first two months to the point that the baby will be able to focus on human faces for a greater amount of time, and will particularly focus on the faces of individuals who also speak to them. Babies by two months are also able to focus on different individuals and items and move their gaze between them. At this point babies are also able to show preference of what they see, and many babies show preference for highly defined black and white patterns. Though babies are often taken with these highly contrasting images, they can also differentiate between much more subtle colours, such as a variety of shades of grey.
Sight by Six Months
By the age of six months, babies have expanded their ability to view faces to include enjoying those of other babies as well as their own reflection in a mirror. Babies are also able to remember and recognise others' faces, and will often smile upon viewing a familiar face. In terms of objects, however, by six months babies prefer to view new and novel items. Patterns in particular are becoming more easily seen, recognised and understood by babies of six months.
Sight by Twelve Months
At one year of age, babies will have achieved object permanence or the understanding that objects still exist even if the baby is not looking at them. This makes "hiding" games such as peek-a-boo enjoyable for babies at twelve months. These babies can also start to understand the expressions that they see on others' faces and react accordingly. By one year of age babies also have a much sharper visual acuity, meaning that they can clearly see a much larger portion of the world in their view than they did at birth, though this acuity will still develop to a great extent for another year or more.
Babies' sight at birth is weak as compared to other senses. In the first year of life a baby's visual system will develop rapidly so that by one year of age babies can both see and begin to understand much of the world around them. Though the child's sight will still develop after one year of age, the foundations will have been laid. Any concerns about a child's sight throughout this time should be discussed immediately with a GP.
You might also like...