What I Can Do to Help My Son's Learning?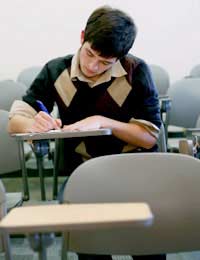 Q.
I have a son who is now 15 doing his GCSE's, unfortunately he has dyspraxia and has great learning difficulties, and naturally I'm very worried about his future. Is there anything I could do to help him with his studies? Are there any particular activites he could do? He already goes to a private school where there are other children like him.
(Mr Andy Patel, 26 November 2008)

A.
Your son is fortunate to have a parent who is so dedicated to helping him to reach his fullest potential! Dyspraxia is a lifelong condition, so your son will likely have to utilise an assortment of coping skills at different periods throughout his life in order for him to do his best in a variety of situations.
Dyspraxia can manifest a wide range of symptoms, including vision problems and perception difficulties, clumsiness, loss of balance, emotional and behavioural problems that may result in social awkwardness, difficulty reading, writing, and speaking, and reduced short term memory. While you weren't specific about your son's particular challenges, I am assuming that since you indicated that he has learning difficulties, he may have trouble reading writing, or speaking, and may also have poor short-term memory.
Because he is currently enrolled in a private school with other children who have the same condition, he is probably already benefiting from occupational and speech therapies, both of which are valuable tools for symptomatic treatment. Appropriate therapy can help to improve both gross and fine motor skills; repetitive exercises are even thought to reinforce certain neuro-pathways in the brain. Simple exercises, such as walking heel-to-toe or tossing a ball into a bin can help with coordination issues and increase confidence as his skills improve. It may be wise for you to meet with the support staff at his school so that they can help you to coordinate a programme that you can do at home with your son to reinforce what he's working on with his teachers and therapists.
Because dyspraxia can cause hypersensitivity to lights, noise, and touch, providing your son with a quiet space with minimal décor for studying may diminish distractions and help him to focus. Additionally, when working with your son, you might find that he responds better if you use a soft, gentle voice. For times when his environment cannot be well controlled, he may find comfort in using earplugs to muffle loud noises, if they tend to overwhelm his senses.
Purchasing books on tape or reading the information into a tape recorder might help him a great deal if your son is has trouble reading and/or remembering information. He can replay the tape as often as he needs in order to comprehend the information, repeating the sections that he finds most difficult.
Developmental dyspraxia may slow your son's ability to learn, but as you know, the condition in no way reflects his intellect. Many with the disorder are of average or above intelligence and merely need to be afforded alternate methods of learning so that they can achieve their personal goals. I applaud you for the effort you are putting forth on your son's behalf and urge you to continue in your role as his advocate; with your support, he can reach for the stars!
You might also like...