How Can I Help My Daughter Make Friends?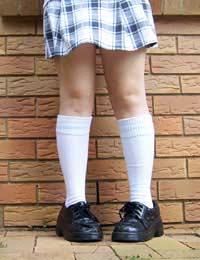 Q.
How can I help my daughter with making friends?
I am heart-broken to learn that my 8 year old daughter is feeling lonely, isolated and friendless. It looks as though she has felt this way for some time - she says she mostly spends playtime alone - she says she does not seem to have any friends as no-one wants to play with her.
She tags along, but is usually left out eventually. She can become angry if things don't always go her way and also teary. I don't know where to turn to help her - the thought that she finds school so painful is heartbreaking.
(S.B, 19 March 2009)

A.
Sorry to hear about the problems your daughter is facing, it must be a real worry for you.
Firstly, if you think this has been a problem for a while, then perhaps a good starting point would be to speak to your daughter's teachers at school? It is possible they may have noticed that she's often left on her own at playtimes and, if so, may be able to offer some practical help and advice. For example, perhaps there is a playground supervisor who could intervene and help her be involved in more play with her peers, or at least you could ensure that a supervisor was aware of the issues and let your daughter know she can always go and talk to them if she feels lonely.
Secondly, perhaps you could help by inviting one or two of her classmates home for tea or to play at the weekend. Sometimes children will get on better just playing with one or two other people, rather than a large group. It may help build up your daughter's confidence and prevent her from feeling so alone if she has some friends to turn to.
It would also be worth exploring whether there are any after school clubs or groups she could join, or other clubs that are run by other organisations. The chances are that, even if your daughter joins a group not connected to school (such as Brownies) there may be some of her classmates who also attend. In a situation out of school hours, she may get on with her peers better than with a larger group. Plus, it could also help build up your daughter's confidence and self-esteem to be enjoying a new activity.
If your daughter lacks confidence and isn't that great at making friends – and some people aren't – then you could help by chatting to her about the art of making friends. For example, it's easy to sit back and wait for someone else to make the first move, but you could suggest that she goes over and talks to her peers at playtime. It may take a while for her to become adept at this, but developing social skills could well help.
Lastly, don't despair completely, as the chances are it could just be a phase she's going through. Many children, especially girls, go through periods when their friendships break up, but most do seem to resume them after a while.
You might also like...