Children and Physical Growth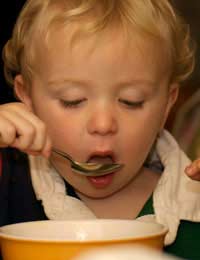 The first thing that springs to most parents' minds when they hear the phrase "physical growth" used in the context of child development is height. Height or how tall a child grows to be, can easily be measured and compared and while this makes it something of an easy indicator of growth, it is by no means the only facet of physical growth in children. In addition to height, the development of gross motor skills, fine motor skills and coordination are all important indicators of physical growth. Without these developments children remain unable to explore and understand the outside world. Fortunately there is much that parents can do to help encourage their children's physical growth.
Facets of Physical Growth
When children are born they are well equipped to explore the world via their five senses. By touching, tasting, hearing, seeing and smelling the world around them they come to understand patterns and themes that they eventually assemble into meanings and understanding. Piaget described infancy as the sensorimotor stage of development as he understood that babies, and then toddlers, moved to explore the world around them with their senses. In order to do so, children must develop the physical skills required to more fully interact with their environments. These skills are all facets of physical growth, including:
Gross motor skills – the development of large muscles and large muscle movements such as rolling, scooting, crawling, and walking. These are usually the first skills that babies and toddlers master.
Fine motor skills – the development of the smaller muscles in the hands and feet which allow for tasks such as grasping, cutting, buttoning and writing. Children often do not develop fine motor skills until well into the toddler or early school years, and some experts believe that boys lag a little behind girls in this area.

Coordination – the development of a sense of balance as well as the ability to put together multiple physical activities for actions such as twisting, catching, reaching and eating. Again, the development of coordination and balance will differ in each child.
Encouraging Physical Growth
There is much that parents can do to encourage physical growth in their children, and most of it involves enjoyable games and activities. For example, parents can:
Provide babies with the room to roll around and begin to crawl.
Provide safe equipment on which babies can learn to pull themselves up.
Supply safe toys that babies can grasp and manipulate.
Supply older children with soft objects that they can kick and throw.
Encourage older children to shape clay and draw pictures.
Encourage older children to crumple or tear paper.
Supervise older children while they use scissors in their crafts.
Supervise older children while they use kids' knives and forks with their meals.
Support older children as they dress themselves, including buttoning, zipping and tying.
A Few Safety Precautions
As children develop their skills and explore their surroundings, a few cuts and bruises are most likely inevitable. Though you can't wrap your children in cotton wool there is much that parents can do to make sure that their children stay healthy as they develop, including:
Feeding them a nutritious diet full of vitamins and minerals.
Encouraging them to drink water to stay hydrated and milk for strong bones.
Limiting fatty, sugary or salty snacks and meals that work against natural health.
Safety-proofing the home when children learn to crawl and walk so that there are no unnecessary bumps or falls.
Washing favourite toys or clothes that routinely make their way into a child's mouth.
Keeping chemicals and medicines out of reach of interested grasps.
Lifting children onto equipment or furniture that is only as high as they could have lifted themselves.
Supervising children at all times when they are near open water or taps.
Taking children for jabs and immunisations on schedule.
Consulting with the family GP if they are concerned about their children's physical development.
"Physical growth" is a catch-all phrase that includes many aspects such as height, gross motor skills, fine motors skills, coordination and balance. There is much that parents can do to encourage their children's physical growth, but they should never push a child or make him/her feel inadequate if they cannot complete a particular task. Each child will develop in a unique manner, and if parents are concerned about a child's physical growth then consulting with a GP is recommended. Otherwise, engage with your child and enjoy this time of magical discovery and growth.
You might also like...