Behavioural Disorders in Children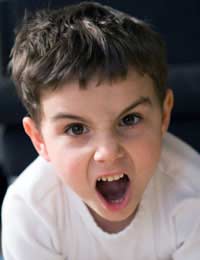 All children engage in bad behaviour every now and then but some children exhibit highly challenging behaviours that are consistently inappropriate for their age. Often these children do not simply exhibit a behavioural problem, but have an underlying behavioural disorder. While there are many behavioural disorders that may be diagnosed in children, three of the most common include Oppositional Defiant Disorder (ODD), Conduct Disorder (CD) and Attention Deficit Hyperactivity Disorder (ADHD).
Oppositional Defiant Disorder (ODD)
As many as one-tenth of any child population is thought to have ODD, and the chances of a boy having it are almost two times higher than those of a girl. Generally ODD is seen in children under the age of 10. Though little research has been conducted on the causes of ODD, it is usually diagnosed after at least six months of uncooperative, defiant and hostile behaviours that don't actually go as far as breaking any major social norms. The behaviours often include:
Having temper tantrums.
Arguing, especially with adults.
Defying the requests or orders of adults.
Deliberately attempting to irritate others.
Being easily irritated by others.
Acting angry or resentful in general.
Blaming others for one's own mistakes.
Conduct Disorder (CD)
CD can be divided into two categories: child onset (exhibited in a child under the age of 10) and adolescent onset (not exhibited in the child prior to the age of 10). CD is characterised by a repetitive pattern of behaviours that violate the rights of others and necessarily the social norms that guard these rights. For a formal diagnosis, three behaviours must be exhibited in the year prior with at least one in the last six months. These behaviours include:
Acting aggressively towards people or animals, including theft, assault and sexual assault.
Destroying property, including by arson.
Deceiving or stealing from others, including shop lifting and breaking into houses and cars.
Breaking parental rules, including breaking curfews, playing truant from school and running away from home.
Attention Deficit Hyperactivity Disorder (ADHD)
ADHD is arguably the most common child onset behavioural disorder in the UK. An estimated 5% to 10% of children in the UK are affected by ADHD, and while symptoms may manifest as early as 18 months of age many children are not formally diagnosed until years later – if at all. Children affected by ADHD may exhibit symptoms such as:
Poor concentration, including an inability to finish tasks or wait for others to finish speaking.
Hyperactivity, including an inability to remain seated for long or play quietly.
Learning difficulties, including an inability to follow instructions or work through complex or complication problems.
Engaging in dangerous behaviours without thinking through the consequences.
Children suspected of behavioural disorders should be tested and, if necessary, formally diagnosed as quickly as possible. GPs, school teachers and administrators, guidance counsellors and private therapists can all give parents further advice on testing and diagnosing behavioural disorders. If parents have any suspicions at all about their children's behaviour it is best to speak with a specialist. If it turns out to be nothing that's great, but if it turns out to be something then it is best to test and diagnose as early as possibly to get a child the help (s)he deserves.
You might also like...
We have several children at our center that throw tantrums and have behavior issues you have to keep learning ways to deal with each child differently.
baby
- 18-Jul-19 @ 6:51 PM
My son is not speaking he is three and half years. Dr said he is suffering with ADHD . Is it possible in this.and also suggest me what is the solution.
Neeraj
- 14-Oct-17 @ 4:14 AM
My three years old son can not speak a small sentence even. He shouts sometimes, enjoy games . He is very attached to his mother and ensures his mother is around always. He can speak mum, dad, sister . He understand our behavior , order etc. Food habit is good. Likes music more. Please let us know why there is delay in speaking. His elder sister , seven years old , did not have such problem. She is doing very well in education. Thank you.
Meg
- 17-Jan-14 @ 8:52 AM
Our grandson is 9 years & 8 months old, he has severe dyslpexia, short term memory problems; and word understanding. He is a loveable child, but he can be very rude ,swears can be aggresive, his sister is lovely but very spolt & very really gets told off by her father. The father appears to ignore, him and always ask the girl how she is getting on; They just appear to shout, or slap him very hard We look after him 1 day a week while his mother is at work. We love him dearly,He seems very angry , with the world. also when he gets told off at home he phones us , I just talk to him, & don't interefere. I'm really worried any suggestion. Thank you.
pip
- 14-Sep-12 @ 12:18 AM
I have had many problems with my two boys for the past good while I have tried to put it down as just typical boys , but the agression they show towards each other and adults and their peers and sibling young sister , is absolutely getting out of hand and at times hard to control , i need help in such of a way to find what is the cause , is their something in their brain to trigger this aboslute anger and hatred against one another , half the time I do half to get involved with the fighting and so does other members of the family we end up getting kicked and punched aswell for this. I am at the end of my nerve. Please can you send me help/advice on this ! Thank you Joanne